MedVance Institute, Ft. Lauderdale
4850 W. Oakland Park Blvd., Suite 200, Fort Lauderdale, FL 33313
Description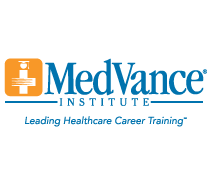 MedVance can help you advance your career in less than a year!
Our classes are focused and complete and you can get a seat - starting soon.
MedVance is a leader in healthcare career training:
Healthcare is a field with security, responsibility and prestige. The healthcare industry is expanding at a rapid rate, and they need qualified technicians from all walks of life, right now!
At MedVance, we teach people:
Basic knowledge and skills to succeed professionally
How to have pride and dedication in their chosen career
A sense of professional responsibility and ethics
At MedVance we help students from enrollment through graduation!
Financial aid is available to those who qualify.
Flexible class schedules to fit each students' lifestyle.
Job placement assistance available for all graduates.
Programs Vary by Campus.
Contact Individual Campus About Specific Accreditation Information.
For consumer information: www.medvanceedu.info/
School Website: MedVance Institute, Ft. Lauderdale