Sinte Gleska University
101 Antelope Lake Cir, Mission, SD 57555
Description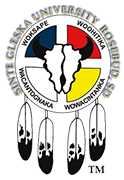 Students who belong to the Lakota tribe will find a welcoming tribal and academic community at the Sinte Gleska University, located on the Rosebud Indian Reservation in Mission, South Dakota.
The university offers a comprehensive array of academics, from associate's, bachelor's and master's degrees to professional certification courses and occupational programs. Areas of study include:
Business and Education
Arts and Humanities
Sciences
Nursing
Data Processing
In addition to its high-quality academics, the university offers students plenty of opportunities to develop professionally. Students can receive career help from the support services department or check out some of the programs offered at the Scott Bordeaux Leadership Institute.
You can deepen your appreciation of the Lakota tribe and Sicangu heritage by visiting the Sicangu Heritage Center, which offers exhibits and collections highlighting their culture, history and traditions.
To take your education to the next level, you can sign up for the Native American Congressional Internship, which is a ten-week program for students who want to learn more about the federal government in Washington D.C.
To receive information on specific admissions requirements, please contact the Sinte Gleska University.
Students engaged in Tribal Public Policy, Native Health Care or Environmental Studies can apply for the Morris K. Udall scholarship.
Additional forms of financial aid offered by Sinte Gleska include scholarships from Native American Indian foundations and federal programs.
Quick Facts about Sinte Gleska University
Setting
Small Town Setting
Size
Small (Under 2,000 Undergrad)
Website
On-Campus Housing Available
No
Selectivity
Open Admissions
Out-of-State Tuition
$3,590
Students
Full-Time Undergrad Students

848

Total Students (Undergrads & Graduate Students)

941
Undergraduate vs. Graduate
Undergraduate

90%

Graduate

10%
Full-Time vs. Part-Time Students
Full-Time

48%

Part-Time

52%
Ethnic Diversity
Caucasian

26%

Other

74%
International Students
International

0%

Domestic

100%
Learn more about Sinte Gleska University:
This web site and associated pages are not associated with, endorsed by, or sponsored by Sinte Gleska University. CampusExplorer.com has no official or unofficial affiliation with Sinte Gleska University.