See All
Careers >
Film and Video Editors
Career Information:
Film and Video Editors
Quick Links:

Film and Video Editors Overview
Film and video editors who wish to enter the broadcasting or motion picture industries should expect strong competition because there are more job applicants than there are openings. Those with a bachelors degree or postsecondary training will enjoy the best opportunities.
Nature of the Work for Film and Video Editors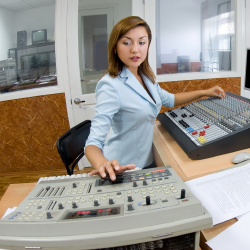 Film and video editors use the images recorded by television, video and motion picture camera operators to edit film, video and soundtracks for the cable, broadcast television and motion picture industries. In some circumstances, a camera operator might do their own editing. For example, a news camera operator, also known as an electronic news-gathering (ENG) operator, is a member of a team that follows newsworthy events as they occur. In some cases, an ENG operator will edit raw footage on the spot to send back to a television affiliate for immediate broadcast.
Film and video editors construct films from the materials constructed from many different shots. Editing is now mainly done on a computer, due to the increase in technology.
Local travel and overnight stays or travel to distant places for longer stretches of time are common for film and video editors who cover major events. Film and video editors who work in television and motion picture production may work long, irregular hours to meet pressing deadlines.
Training, Other Qualifications and Advancement for Film and Video Editors
Recommended Education Level
There are many private trade and technical schools, community colleges, and 4-year colleges and universities that offer courses in film and video editing. Often, film schools provide knowledge on the artistic aspects of film and video editing. A knowledge of computer technology is essential. Often film and video editing students take business courses, for a well-rounded education.
Aspiring film and video editors should subscribe to editing newsletters and magazines, join audio-video clubs and pursue summer or part-time employment in cable and television networks or motion picture studios.
Typically, film and video editors in the film and television industries are hired for a project based on recommendations from people such as directors of photography, producers or directors or through interviews with the producer.
Film and video editors should be accurate, patient and detail oriented. They should also have good communications skills in order to communicate their ideas to the director and producers.
In addition to having talent, film and video editors who do freelance or run their own business need to have business skills.
As they gain more experience, film and video editors who work in the television industry may demand more assignments or move to positions with larger or network television stations. Film and video editors in the motion picture industry advance from assistant editor to editor for advertising agencies, movie studios or television programs. Others teach at universities, technical schools or film schools.
Top 10 Most Popular Film/Video & Cinematography Schools
1. Columbia College, Chicago (Chicago, Illinois)
2. New York University (New York, New York)
3. University of Southern California (Los Angeles, California)
4. Brooks Institute (Santa Barbara, California)
5. Emerson College, Boston (Boston, Massachusetts)
6. Chapman University (Orange, California)
7. Collins College, Phoenix (Phoenix, Arizona)
8. Savannah College of Art and Design (Savannah, Georgia)
9. California Institute of the Arts, Valencia (Valencia, California)
10. Academy of Art University (San Francisco, California)
Employment and Job Outlook for Film and Video Editors
Number of People in Profession
17,550
Changing Employment (2008-2018)
Employment is projected to grow about as fast as average (increase 7 - 13%).
Job Opportunities & Competition
May face, or can expect, keen competition for job opportunities. Job openings may be fewer than job seekers.
Film and video editors hold about 25,500 jobs. A significant number work at smaller, independent production companies, independent television stations, local affiliate stations of television networks or broadcast groups, or large cable and television networks. There also are many self-employed film and video editors. Many salaried film and video editors are employed by motion picture studios or television broadcasting stations. 18 percent of salaried film and video editors work in television broadcasting, while 37 percent work for motion picture and video industry. Many film and video editors work in large metropolitan areas.
Job growth for film and video editors is supposed to increase by 11 percent over the next decade, which is as fast as average for all occupations. As technology and the motion picture industry grow, so will the demand for film and video editors. A need will arise for film and video editors to make made-for-Internet broadcasts, including digital movies, sports features, music videos and general entertainment programming. Growth may be tempered by the combination of roles and various other cost-cutting measures for ENG camera operators and editors working in broadcast stations.
Due to the large number of people who wish to enter the motion picture and broadcasting industries, strong competition is expected for film and video editors. The most creative and ambitious, adept at operating a business, and adapt to rapidly changing technologies are those who are usually successful in getting a salaried job or attracting enough work to earn a living by freelancing. Film and video editors with the most advanced computer skills and experience will have the best job opportunities.
Earnings and Salary for Film and Video Editors
The median annual wage for film and video editors is $50,790, while the median annual wage for those employed in the motion picture and video industries is $56,170. The highest 10 percent earn more than $112,960, while the lowest 10 percent earn less than $25,400. The middle 50 percent earn between $33,880 and $79,550.
Annual Salary for Film and Video Editors
On average, Film and Video Editors earn $50,790 per year.
10%
25%
75%
90%
$25,400/yr
$33,880/yr
$79,550/yr
$112,960/yr
Source: Bureau of Labor Statistics Occupational Outlook Handbook