See All
Colleges >
Navy Tuition Assistance (TA)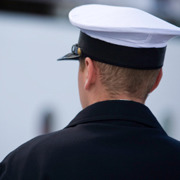 Navy Tuition Assistance (TA)
Learn about the education benefits of joining the US Navy.
Think you have to make a choice between joining the military or pursuing your college education? Think again. The Navy provides sailors with tuition money for college, as well as scholarships and help in paying off existing college loans.
If you're concerned about whether you'll receive enough financial aid for college, the Navy can help you complete your college degree program. It can also offer you guidance in your career after you complete your college degree, whether you choose to remain in the Navy or not.
Find out about the education benefits of the Navy below. Your college degree may not be as far out of reach as you think.
What Is the Navy Tuition Assistance (TA) Program?
Active duty sailors are eligible to receive up to 100% of their tuition at a college or university. This program applies to naval officers, enlisted officers and those in the Naval Reserve.
How Much College Aid Can You Receive?
The maximum amount paid to sailors requesting tuition assistance is 100% of tuition and approved fees. However, there are annual caps to this college money: Sailors can receive up to $250 per semester credit hour and up to $4,500 per year.
Where Can You Pursue Your College Degree?
Sailors must attend accredited colleges and universities that are recognized by the Department of Education.
What Are Additional Educational Benefits of Joining the Navy?
There are a number of financial aid programs for college offered by the US Navy. The Naval Reserve Officers' Training Corps (NROTC) offers college scholarships to sailors, and the Montgomery GI Bill provides an benefit of over $36,000 in money for college. Combined with the Navy College Fund, you can earn over $70,000 in college money.
You can earn college credits through your Navy training, and the Navy's Loan Repayment Program helps pay off existing college loans.
Navy Tuition Tips & Tactics
People Who Read This Article Also Read:
GI Bill Programs: the Basics
Active Duty Montgomery GI Bill
Selected Reserve Montgomery GI Bill (MGIB-SR)
Post-9/11 GI Bill: The Basics
Military Financial Aid Programs: the Basics

Quick Search: Find the College that's Right for You!
Advertisement
Visit Our Student Center

Get on track!
And find out everything you need to know about planning for college.

Visit our FREE
scholarship directory
Seach 1.9 million scholarships worth over $7.75 billion
Enter for a chance to win our monthly $1000
Scholarship!
Advertisement