See All
Colleges >
Top 25 Highest-Paying Occupations by Median Hourly Wages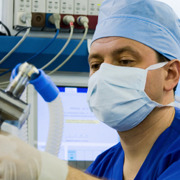 Top 25 Highest-Paying Occupations by Median Hourly Wages
Check out the steps needed to become a top paid employee.
All of the highest paying jobs in America require a bachelor's or advanced degree in science, medicine or mathematics.
You don't need a glamorous job to earn the big bucks. In fact, It's more than likely you'll be in scrubs if you're in one of the highest-paying jobs in the country.
All of the highest paying jobs in America require a bachelor's or advanced degree in science, medicine or mathematics. Medical careers, many of them in the dental profession, are among the highest paid occupations.
All medical professions require that employees continue their education throughout their careers. This is required in order to keep up with the latest trends in medicine. Also, the highest paid managing occupations correlate with the ever-expanding science and computer technology sectors.
Due to the fact that most of the highest paying occupations require a meical degree, our list also includes related occupations that demand less education, but are still financially rewarding. Unless otherwise noted, each career in medicine requires a an M.D. in your desired field, plus two to eight years of a medical residency.
An anesthesiologist prepares and administers anesthetics for surgery patients.

Related Careers:
A general internist diagnoses and provides nonsurgical medical treatment for problems concerning internal organ systems.

Related Careers:
Obstetricians and Gynecologists (OB/GYN) specialize in diagnosing and treating women's health disorders.

Related Careers:
Oral and Maxillofacial Surgeons specialize in operating on the mouth, jaws, teeth, gums, neck and head.

Related Careers:
Orthodontists fix jaw and teeth structure through the use of braces and other measures.

Related Careers:
Physicians and surgeons may choose to specialize in the field of cardiology, dermatology, pathology, etc.

Related Careers:
Prosthodontists focus on the restoration and repair of teeth and oral functions.

Related Careers:
Surgeons specialize in treating injury, disease or deformity through invasive operations.

Related Careers:
Chief executives lead development of organizational policies, goals and objectives. Most top executives hold a bachelors degree or masters degree in business, liberal arts or another specialized field.

Related Careers:
Family and general practitioners are similar to internists, but also help prevent diseases that are common to the general population.

Related Careers:
Psychiatrists assess and treat mental illness through a combination of psychotherapy techniques.

Related Careers:
Pediatricians specialize in the care of infants, children, teenagers and young adults. They diagnose and treat various illnesses and track patients' growth through to adulthood.

Related Careers:
General dentists treat issues with teeth and mouth tissue and also administer advice on caring for teeth.

Related Careers:
Dentist specialists include pediatric dentists, periodontists, endodontists and dental public health specialists.

Related Careers:
Engineering managers generally supervise engineers, technicians and support personnel who design and develop machinery, products, systems and processes. Practically all engineering managers hold a bachelors degree in some area of engineering. Many earn their masters degree in engineering management (MEM) or business administration (MBA).

Related Careers:
Podiatrists treat a variety of problems dealing with the foot and lower leg area.

Related Careers:
Natural sciences managers direct research and development projects of life and physical scientists, including agricultural scientists, chemists, biologists, geologists, medical scientists and physicists. Most are required to have a bachelors degree in their chosen specialized science field. In some cases, companies will pay employees to pursue their masters of business administration (MBA) to help them advance from this position.

Related Careers:
Computer and information systems managers direct the work of computer programmers, computer systems analysts and computer support specialists. Earning a degree in a computer-related field is helpful, but employees prefer to hire applicants with a graduate degree, such as an MBA, with a focus on technology.

Related Careers:
Air traffic controllers work with the National Airspace System (NAS) by coordinating the movement of air traffic and making certain that planes remain at a safe distance from each other. With no prior experience, applicants must have three years of full time work, a bachelors degree or a combination of both in order to attend an aviation/airway management and operations college.

Related Careers:
Airline pilots, copilots focus flying the plane with the help of the auto pilot. The flight engineers will inspect the plant before take-off to make sure it is safe for flying. To obtain a commercial pilot license most airlines require at least two years of college before beginning training. You also have the choice of attending a Federal Aviation Administration (FAA) approved flight school.

Related Careers:
Lawyers are the backbone of the legal system, either acting as an advocate or advisor to clients. After earning your bachelors degree most likely with a double majors, you will then complete three years of law school. The final step is to pass the written bar examination.

Related Careers:
Judges, magistrate judges and magistrates apply the law to oversee legal processes in court. Federal and state judges are required to have a law degree. There are approximately 40 states that allow jurisdictions judges to serve without a law degree, but your chances of getting a higher paying job increase significantly when you have a law degree.

Related Careers:
Marketing managers promote their firm or organization's products or services. The minimum degree requirement is a bachelors degree in business administration with a marketing emphasis. To increase you hiring potential, complete an internship while you are still in school and consider pursuing your MBA.

Related Careers:
Petroleum engineers design methods on how to extract oil from the earth's deposits. After graduating with a bachelors degree in petroleum engineering, geology, geophysics, mining or civil engineering. Interested in teaching or research? Continue on to graduate school to obtain your masters or doctoral degree.

Related Careers:
Pharmacists provide medicine to patients according to a doctor's prescription. Three or more years at an undergraduate level are encouraged, but not required. Next, a pharmacy student will earn a doctoral degree in pharmacy (Pharm. D.).

Related Careers:
People Who Read This Article Also Read:
Recession-Proof Careers
Top 25 Fastest Growing Industries
Top 25 In Demand Jobs and Fastest Growing Occupations
Top 25 Occupations with the Highest Employment
Top 25 Occupations with the Most Openings

Quick Search: Find the College that's Right for You!
Advertisement
Visit Our Student Center

Get on track!
And find out everything you need to know about planning for college.
Advertisement