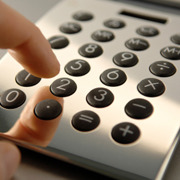 Borrowing Tips
Five key questions to help you make smart decisions about your college loans.
College loans can be an important part of your tuition and other money for college. But with all the different types of loans out there, how do you know which is the right one for you?
How you borrow college money is as important as how much money you choose to borrow. Because of the differences in interest rates and other terms on your college loans, the amount you pay back could be very different depending on which loan you choose.
Whether you plan to take math courses as part of your college education or not, doing the math on your college loan options is one type of calculation you should do. Here are the five questions you should ask yourself about the college loans you're considering.
What is the loan's interest rate?
Evaluating loans based on their interest rates is one of the easiest ways to determine whether a loan is right for you. Put simply, a lower interest rate means the loan will be less expensive in the long run and you'll have less college money to repay. This is an important consideration for the loan you choose, but it's not the only factor to evaluate.
The government pays the interest on subsidized federal aid while you're enrolled in your college program at least half-time. Should you graduate, stop pursuing your college degree or attend classes less than half-time, you will be responsible for this interest. With unsubsidized loans, you're always responsible for the interest payments.
Are there any fees associated with the loan?
Some loans include fees paid to the agency that guarantees the loan or the people who perform the administrative tasks related to the loan. What this means to you is that you may receive less money than you think you're getting. Make sure you know what fees, if any, are taken out of your loan amount so that you can cover your additional costs.
What are the repayment options for the loan?
You can choose how you plan to repay your loan. You'll generally be offered repayment plans that span 10 years to 25 years. Think carefully about your expected salary and which plan seems most realistic for you.
The million-dollar question: Do you really need all of the money?
You should only borrow as much money for college as you need for tuition and other school expenses. Cutting down costs and sticking to a budget now can save you thousands in the long run, so it's worth looking into ways to borrow less money. Here's how:
The student loans you're offered as part of your financial aid offer letter are just that: an offer. You can decline certain loans or request less money than you're offered.
Students who work while completing their degree programs are able to take out smaller loans. If you can handle a job with your school schedule, you could save a significant amount of money.
File your Free Application for Federal Student Aid (FAFSA) form to receive federal loans, which generally have better terms than private loans. In addition to qualifying you for federal loans, you may also be eligible for other types of federal aid, like scholarships and grants that don't have to be repaid.
Ask your school's financial aid officers if the college or university has a loan program. Some schools may offer loans with very low interest rates as a way to entice students to attend that school.
Borrowing Tips & Tactics
Don't receive all the federal aid you need? In addition to banks and other financial institutions, you can receive student loans from private foundations and organizations. These loans typically have higher interest rates and repayment terms than Federal loans, so be sure to compare student loans to get the best possible package.
In addition to the FAFSA, complete the CSS/Financial Aid PROFILE form to apply for nonfederal aid.
Want to know how much federal aid you will qualify for? Use the FAFSA4caster to calculate this college financial aid, which can include federal scholarships and grants for students.
People Who Read This Article Also Read:
Borrowing Basics
How to Keep Debt Low
Different Types of College Loans
Managing Your Loan Information
Subsidized Loans vs. Unsubsidized Loans
Paying for College: Federal Financial Aid vs. Private Loans

Quick Search: Find the College that's Right for You!
Advertisement
Visit Our Student Center

Get on track!
And find out everything you need to know about planning for college.

Visit our FREE
scholarship directory
Seach 1.9 million scholarships worth over $7.75 billion
Enter for a chance to win our monthly $1000
Scholarship!
Advertisement