See All
Colleges >
Michigan Scholarships, Grants and Student Loans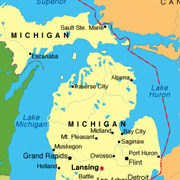 Michigan Scholarships, Grants and Student Loans
Check out Michigan financial aid programs to help fund your college education.
Michigan Financial Aid
Financial aid in Michigan comes in many forms and may be used towards a number of state and private colleges and universities such as, the University of Michigan, Lake Michigan College or Hillsdale College. Residents who are in need of help funding their college tuition at a Michigan college or university should first turn to state scholarships, grants and student loans.
Michigan Scholarships and Grants
Michigan residents should first search for scholarships and grants provided by the state before looking for outside sources. Michigan scholarships are based on financial need, merit or a combination of the two. Use the Campus Explorer Scholarship Search to find Michigan scholarships.
Here is a list of the currents scholarships and grants offered by Michigan Higher Education Student Loan Authority (MHESLA):
Scholarships from Michigan Colleges and Universities
Michigan colleges and universities understand that their tuition rates are out-of-reach for some students. This is why they offer school-sponsored scholarships to students who meet financial, merit, racial, sports, or special talent requirements. The following schools offer unique scholarship opportunities:
Additionally, among many other scholarships the University of Michigan offers the Alumnae Council Scholarships to students who have met the required academic achievement and financial need. Lansing Community College offers Athletic Scholarships to students who have superior athletic skills. Students must contact the coaches in their respective sports in order to be considered for this scholarship.
Students planning to attend college in Michigan should also consider the city in which they go to college because cities with a greater number of colleges tend to have more financial aid available. The top five cities in Michigan with the largest number of colleges are Grand Rapids, Detroit, Flint, Southfield and Kalamazoo.
Other Scholarships in Michigan
After searching for scholarships administered by the state, Michigan students should then look for scholarships and grants offered by private and public nonprofit community organizations. Often a community organization will have a scholarship foundation to help the families they serve afford a college education. This list of scholarships and grants is not comprehensive, so do some sleuthing to find out other organizations in your area that offer college scholarships:
Michigan Student Loans
MHESLA provides information and resources to students looking to finance part of their education with student loans. This organization provides government and private loans to Michigan residents and those attending school in Michigan.


People Who Read This Article Also Read:
Financial Aid by State: Scholarships, Grants and Student Loans
How to Apply for Financial Aid
How to Complete Your FAFSA
5 Helpful FAFSA Tips
Are You Eligible for Federal Financial Aid?
What Is the PROFILE Form?

Quick Search: Find the College that's Right for You!
Advertisement
Visit Our Student Center

Get on track!
And find out everything you need to know about planning for college.

Visit our FREE
scholarship directory
Seach 1.9 million scholarships worth over $7.75 billion
Enter for a chance to win our monthly $1000
Scholarship!
Advertisement