See All
Colleges >
Active Duty Education Benefits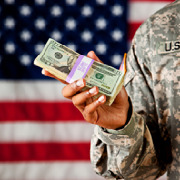 Active Duty Education Benefits
Learn more about the education benefits offered by the armed forces to help pay for a college education.
Serving in active duty in the Armed Forces can make you eligible for a variety of college aid programs to help provide you with money for college. The US military and the Department of Veterans Affairs offer a variety of education programs for active duty service members.
The type of aid you are eligible for depends in part on your branch of the military, the type of degree program you're interested in and the costs at the college or university you'd like to attend.
As you learn more about the college funding you may be able to receive, keep in mind that you may be eligible for more than one type of college money. Combining the various programs, as well as federal aid and other types of college money available to you, will open up the possibilities for pursuing your college degree.
What Are the Active Duty Education Benefits?
There are a number of education benefits offered by the military for active duty service members. These include tuition assistance programs, scholarships, the Active Duty Montgomery GI Bill (MGIB), Veterans Educational Assistance Program (VEAP) and college loans.
Each branch of the military has its own programs and terms for administering these programs. To learn more about the programs in your branch, read the Campus Explorer articles on these subjects and talk to your military education counselor.
Who Is Eligible for the Active Duty Education Benefits?
There are some restrictions on which service members are eligible for various forms of aid. For example, nearly all service members are eligible to receive tuition assistance, while the MGIB requires that recipients have served at least two years of active duty.
For the Veterans Educational Assistance Program (VEAP), you must have entered the service between January 1, 1977, and June 30, 1985, completed the first period of your service and made financial contributions to the fund, among other requirements.
How Much College Aid Can You Receive through the Active Duty Education Benefits?
The amount of college funding you receive depends on the type of degree programs you're pursuing and the costs of the college or university you're attending. Tuition Assistance can provide you with 100% of your tuition costs, up to $4,500 per year; the VEAP program matches your contributions $2 to $1, and scholarships can be small sums of money for college all the way up to a full ride that covers tuition, room and board and other costs of a college education.
How Do You Apply for the Active Duty Education Benefits?
For many types of military college aid, you have to complete an application so the military can determine your eligibility. In some cases, you can complete this application online through the Veterans ON-line APPlications (VONAPP) website, while other programs have a printed application.
Talk to your military education counselor, high school guidance counselor or a financial aid advisor at the school you want to attend for information on how to apply. The basic process for applying for military aid is this:
Do a Campus Explorer college search to find programs you're interested in.
Contact the admissions office to find out if the school has VA-approved education programs and meets program requirements.
Complete the required application form.
Send in your application to the VA Regional Processing office.
Active Duty Education Tips & Tactics
If you participate in the Montgomery GI Bill (MGIB) program, you may receive additional money from the Department of Defense their their "kickers." This money for college is usually part of an enlistment contract or is used for retention efforts. Only members of the Army, Navy and Marine Corps are eligible for these kickers, which can increase your MGIB payment up to $950 per month. When you're applying for military education benefits, you can also apply for these kickers.
Want more information on the Active Duty MGIB? Talk to your recruiter, education service officer or call 888-GI-Bill-1.
Make time for school: For some of these programs, you only have a limited time after you leave active duty to take out your education benefits. However, in some cases, unused money can be transferred to your spouse or children.
People Who Read This Article Also Read:
Military Financial Aid Programs: the Basics
GI Bill Programs: the Basics
Military Scholarships: The Basics
Reserve Education Benefits
Military Children Education Benefits
Military Spouses Education Benefits

Quick Search: Find the College that's Right for You!
Advertisement
Visit Our Student Center

Get on track!
And find out everything you need to know about planning for college.

Visit our FREE
scholarship directory
Seach 1.9 million scholarships worth over $7.75 billion
Enter for a chance to win our monthly $1000
Scholarship!
Advertisement