See All
Colleges >
Top Healthcare Programs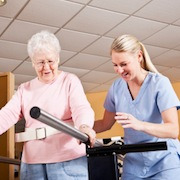 Top Healthcare Programs
Learn about the top two types of healthcare programs for students.
Students who are pursuing a career in healthcare usually take one of two paths. Either they pursue an associates degree or medical certification at a community college or trade school. Otherwise, they enroll in an undergraduate school that often leads to a graduate program that builds on what they learned at a four-year college.
For this reason, the top healthcare colleges can be split into two separate groups: - top undergraduate and graduate programs and top associate degree and certification programs. These schools are the best of the best with great job placement rates, top professors, first-rate facilities and curricula that challenge students with both experience-building fieldwork and intense classwork.
Graduate and Undergraduate Programs
University of Michigan, Ann Arbor
The University of Michigan is a large research university that's consistently at the top of healthcare college lists. Its healthcare management and nursing graduate programs are both ranked in the top ten, churning out students who go on to successful careers in hospitals, doctors' offices and clinics.
Ranked second in 2011 by US News and World Report, University of Minnesota's healthcare administration program has long been held in high esteem. With world-renowned professors and some of the best job placement in the country, the University of Minnesota excels at producing outstanding healthcare graduates.
Johns Hopkins School of Nursing has been ranked number one among nursing graduate schools, number one in community and public health nursing, number five in nursing service administration and number seven in family nurse practitioner by US News and World Report. If that's not enough, the Johns Hopkins Hospital, where nurses train, is ranked first in the country.
Associates Degree and Certification Programs
Pima Medical Institute in Tucson, Arizona, is the premiere medical college for students in the west. It offers associates degrees in everything from nursing and radiography to veterinary technician. Plus, it boasts top-notch certification programs that ready students for jobs as medical assistants, massage therapists and ultrasound techs.
Community College of Allegheny County
As the Community College of Allegheny County (CCAC) so astutely puts it, "More than 75 percent of healthcare is delivered by professionals other than physicians." CCAC is set up to make sure that 75% is prepared. With more than 30 associate degree and certification programs, CCAC is one of the nation's leading producers of healthcare graduates.
University of Alaska, Anchorage
The University of Alaska, Anchorage (UAA) has consistently been ranked as The top phlebotomy college in the United States. While traditionally a four-year university, UAA also offers a wide array of associate and certification programs for the surrounding community.


People Who Read This Article Also Read:
In Demand Jobs in Health and Medical Services
In Demand Careers in Health & Medical Services
Is Medical School in Your Future?
High Demand Job: Medical Assistant

Quick Search: Find the College that's Right for You!
Advertisement
Visit Our Student Center

Get on track!
And find out everything you need to know about planning for college.
Advertisement