UCC Description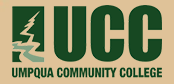 College seekers who want to get away to a smaller, two-year academic institution in a scenic area, should consider Umpqua Community College (UCC). The school is located in Roseburg, Oregon, overlooking the North Umpqua River.
Two-year degrees and certificates are offered in the following types of programs:
Business Administration
Fisheries and Wildlife Science
Mechanical Engineering
Practical Nursing
Pre-Veterinary Medicine
Web-based courses are provided as well for students who are interested in the flexibility of online learning.
UCC even has special program offerings such as adult education, online high school classes, and four-year degree transfer programs in partnership with institutions such as Oregon State University (OSU).
There is a five-step process for admissions, listed online at the school's website, which includes: filling out an application for admissions (there is a fee), taking a placement test, meeting with an academic advisor, registering for classes, and paying for tuition.
Financial aid is available to those who are eligible to assist with tuition costs and other educational expenses. Tuition is discounted for students who are residents of the state.
College life at UCC includes an art gallery, athletics, leadership opportunities, regular on-campus events, and more.
If you are thinking about starting off your post-secondary education at a two-year community college on the West Coast, Umpqua Community College might have exactly what you are looking for.
Quick Facts about Umpqua Community College
Setting
Small Town Setting
Size
Medium (2,000 to 5,000 Undergrad)
Website
On-Campus Housing Available
No
Parking Permit Required
Yes
Selectivity
Open Admissions
Out-of-State Tuition
$8,865
UCC Students
Total Students

2,401
Undergraduate vs. Graduate
Undergraduate

100%

Graduate

0%
Full-Time vs. Part-Time Students
Full-Time

0%

Part-Time

100%
Students Coming From In-State vs. Out-of-State
In-State

100%

Out-of-State

0%
Ethnic Diversity
Asian

1%

Caucasian

84%

Latino

4%

Other

11%
Students State Origin
Oregon

100%
International Students
International

0%

Domestic

100%
Learn more about Umpqua Community College (UCC):
This web site and associated pages are not associated with, endorsed by, or sponsored by Umpqua Community College (UCC). CampusExplorer.com has no official or unofficial affiliation with Umpqua Community College (UCC).