Cankdeska Cikana Community College (CCCC)
214 1st Ave, Fort Totten, ND 58335
CCCC Description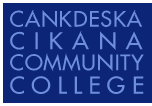 The Cankdeska Cikana Community College in Fort Totten, North Dakota, is a land grant college established by the Spirit Lake Dakota Nation that aims to support North Dakota by offering academics and vocational training to help its citizens learn the Dakota culture and language, as well as achieve their career goals.
The school offers associate's degrees in more than 15 fields and three certificate programs. Some areas of study include:
Indian Studies
Liberal Arts
Natural Resource Management
Tribal Administration
Finish Carpentry
The school offers a number of student services so that you can receive tutoring, counseling and career development through its workshops and seminar programs.
Students pursuing Education may volunteer in the CCCC's Wakanheza Oti, or Sacred Children's Place, and receive credit in an Early Childhood course for their training.
Cankdeska Cikana is an open admissions college, so any student who has earned a high school diploma or GED has the opportunity to be admitted.
Many institutional scholarships are available to qualifying students from sources like the American Indian Education Foundation and American Institute of Certified Public Accountants.
Other forms of financial aid to students who file a FAFSA and demonstrate need include Pell grants, work-study programs and the North Dakota State Student Incentive grant.
Quick Facts about Cankdeska Cikana Community College
Setting
Small Town Setting
Size
Small (Under 2,000 Undergrad)
Website
On-Campus Housing Available
No
Parking Permit Required
No
Selectivity
Open Admissions
Out-of-State Tuition
$2,770
CCCC Students
Total Students

201
Undergraduate vs. Graduate
Undergraduate

100%

Graduate

0%
Full-Time vs. Part-Time Students
Full-Time

100%

Part-Time

0%
Ethnic Diversity
Caucasian

3%

Other

97%
International Students
International

0%

Domestic

100%
Learn more about Cankdeska Cikana Community College (CCCC):
This web site and associated pages are not associated with, endorsed by, or sponsored by Cankdeska Cikana Community College (CCCC). CampusExplorer.com has no official or unofficial affiliation with Cankdeska Cikana Community College (CCCC).