Santa Fe University of Art and Design
1600 St. Michael's Drive, Santa Fe, NM 87505
Description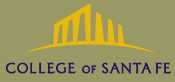 The Santa Fe University of Art and Design in Santa Fe, New Mexico, offers flexible programs in a number of undergraduate and graduate degree programs with an emphasis on ethical values, both in and out of the classroom.
An education at the Santa Fe University of Art and Design aims to educate the entire individual, focusing on the humanities and creative expression as well as social and natural sciences.
Academics at the college include a wide variety of bachelor's degrees, including:
Natural Resources and Conservation
Environmental Studies
English Writing and Literature
General Religion
Music
Drama
Business Administration and Management
Elementary Education and Teaching
General Computer Science
Psychology
The school also offers two master's degrees, one in Business Administration and Management and the other in Education through the School of Education.
Faculty members at the Santa Fe University of Art and Design gets to know students as individuals and offer thoughtful academic advising as well as career counseling. In addition, class sizes are small, designed for instructors to provide individual student attention.
On-campus housing is available and is required for incoming freshmen, creating a traditional college life experience the first year on campus.
Financial aid is available to eligible students through federal grants, state and local grants, institutional grants, and student loans.
Quick Facts about Santa Fe University of Art and Design
Setting
Large Town Setting
Size
Small (Under 2,000 Undergrad)
Website
On-Campus Housing Available
Yes
Selectivity
Highly Selective
Out-of-State Tuition
$27,996
Students
Full-Time Undergrad Students

1,113

Freshman Class

173

Total Students (Undergrads & Graduate Students)

1,116
Undergraduate vs. Graduate
Undergraduate

100%

Graduate

0%
Full-Time vs. Part-Time Students
Full-Time

100%

Part-Time

0%
Gender of Students
Women

55%

Men

45%
Ethnic Diversity
African-American

10%

Caucasian

49%

Latino

20%

Other

21%
International Students
International

16%

Domestic

84%
Learn more about Santa Fe University of Art and Design:
This web site and associated pages are not associated with, endorsed by, or sponsored by Santa Fe University of Art and Design. CampusExplorer.com has no official or unofficial affiliation with Santa Fe University of Art and Design.