Casa Loma College, Van Nuys (CLC)
6725 Kester Ave., Van Nuys, CA 91405
CLC Description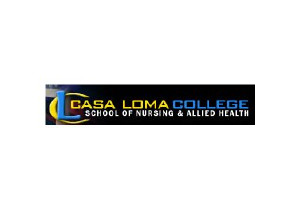 Casa Loma College offers Southern California residents marketable career training and, since they have minimal requirements for entry, even those with little to no education or professional experience may enter.
Located in Van Nuys, California, Casa Loma has additional campuses throughout the greater Los Angeles region.
Casa Loma's academics include Physical Therapy Assisting, Medical Assisting, Vocational Nursing and other fields, and are available to anyone with a high school diploma or GED. Students applying to certain programs may also need to interview with a Casa Loma representative and take a placement or entrance exam.
Since Casa Loma has connections to numerous medical facilities and healthcare organizations, students receive employment referrals as they prepare to graduate. Casa Loma's career services division will also help students to prepare their resume and develop interviewing techniques.
Financial aid is available through need-based federal aid awards, including Pell grants, Direct and Perkins loans, and state grants. The majority of eligible students receive a combination of grants and loans, minimizing their amount of loan debt.
Quick Facts about Casa Loma College, Van Nuys
Setting
Large City Setting
Size
Small (Under 2,000 Undergrad)
Website
On-Campus Housing Available
No
Parking Permit Required
No
CLC Students
Total Students

552
Undergraduate vs. Graduate
Undergraduate

100%

Graduate

0%
Full-Time vs. Part-Time Students
Full-Time

100%

Part-Time

0%
Ethnic Diversity
African-American

28%

Asian

19%

Caucasian

15%

Latino

33%

Other

5%
International Students
International

0%

Domestic

100%
Learn more about Casa Loma College, Van Nuys (CLC):
This web site and associated pages are not associated with, endorsed by, or sponsored by Casa Loma College, Van Nuys (CLC). CampusExplorer.com has no official or unofficial affiliation with Casa Loma College, Van Nuys (CLC).