Paul Mitchell the School, Provo
480 N 900 E, Provo, UT 84606
Description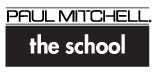 For a quality educational experience providing students with the preparation to take the state board examination, look no further than the Paul Mitchell School in Provo, Utah.
The school offers many employment opportunities to students through its extensive nationwide network of hundreds of salons and spas.
Academics offered at the school include:
Cosmetology
Nails
Skin Care
Barbering
Cosmetology Instructor
The cosmetology programs consist of three components: core, adaptive, and creative phases. The core introductory course educates you in the basics of confidently beginning to work on clients. The adaptive portion allows you to apply your skills as you learn values of time management, retailing, and successful communication. Lastly, the creative phase guides you through advanced hairdressing and chemical work as you prepare for your future salon career.
For licensed cosmetologists who want to continue their education, the school offers an Advanced Academy program, which gives three- or five-day retreats in advanced haircutting, hair coloring, and makeup.
Instructors pay students individual attention and adjust to your learning style, as well as encourage your creative side and prepare you to succeed in a professional setting.
The Paul Mitchell Schools website regularly posts job opportunities available to students.
Tuition includes technical tools, books, and Core Cutting materials. Eligible students may receive financial aid through federal programs.
School Website: Paul Mitchell the School, Provo
This web site and associated pages are not associated with, endorsed by, or sponsored by Paul Mitchell the School, Provo. CampusExplorer.com has no official or unofficial affiliation with Paul Mitchell the School, Provo.