Beauty College of America
1171 Main Street, Forest Park, GA 30297
Description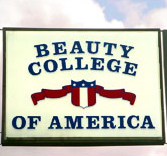 The Beauty College of America in Forest Park, Georgia, is a private vocational institution that is committed to staying on the cutting edge of the constant changes, ideas, trends and challenges that arise in the beauty industry so that you can be prepared to handle whatever comes your way as a licensed cosmetologist.
The academics offered at the college include comprehensive training programs in:
Cosmetology
Hair Design
Nail Services
Instructor Training
The programs are designed to prepare you for the Georgia state licensing examination. Students who complete programs receive diplomas in their area of specialization, while those who complete the Cosmetology program and pass the State Board examination will receive a Master of Cosmetology license.
Instructors regularly attend local and national seminars to ensure that the school's curricula reflect only the latest advances in the beauty industry.
If you pursue a career as a cosmetology instructor, you have the choice of being a general cosmetology educator or one who exclusively teaches hair design techniques.
Applicants must be at least 17 years old, have a valid Georgia driver's license or birth certificate and possess a high school diploma or GED. You must also satisfactorily complete an interview with a member from the admissions staff.
The school provides Title IV financial aid to eligible students through Pell grants, veterans' educational benefits and active duty military educational programs.
Quick Facts about Beauty College of America
Setting
Large Town Setting
Affiliation
Not applicable
Size
Small (Under 2,000 Students)
On-Campus Housing Available
No
Selectivity
Open Admissions
Licenses, Accreditations, and Memberships
National Accrediting Commission of Cosmetology Arts and Sciences (NACCAS)
Georgia Association of Cosmetology Schools
National Association of Cosmetology Schools
Students
Total Students

113
Full-Time vs. Part-Time Students
Full-Time

53%

Part-Time

47%
Ethnic Diversity
Latino

1%

African American

90%

Caucasian

2%

Asian

5%

Unknown and Other

2%
International Students
International

0%

Domestic

100%
Learn more about Beauty College of America:
Compare to Similar Colleges