Carousel of Miami Valley Beauty College
7809 Waynetowne Blvd, Dayton, OH 45424
Description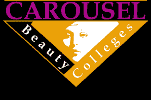 Carousel Beauty Colleges, with five locations, is the largest in the area. We are not a franchise paying for someone else's ideas in training methods. We utilize original methods and proven teaching techniques which can only result from 42 successful years of experience. Our curriculum is updated constantly to meet the growing and ever changing beauty industry.

We have more graduates passing the state exam than any other beauty college in the Dayton and surrounding area. We guarantee our graduates will pass the state exam or additional training will be provided by Carousel at no additional charge!

Our staff has an average of 10 to 20 years salon experience and an average of 5 to 15 years teaching experience. Because we are an ACCREDITED college, our staff receives a minimum of 12 hours of continued education each year in advanced technology and teaching methodology. All of this experience is shared with our students!
Quick Facts about Carousel of Miami Valley Beauty College
Setting
Mid-size City Setting
Size
Small (Under 2,000 Undergrad)
Website
On-Campus Housing Available
No
Selectivity
Open Admissions
Licenses, Accreditations, and Memberships
Ohio State Board of Cosmetology
National Accrediting Commission of Career Arts & Sciences
Students
Total Students

58
Undergraduate vs. Graduate
Undergraduate

100%

Graduate

0%
Full-Time vs. Part-Time Students
Full-Time

100%

Part-Time

0%
Ethnic Diversity
African-American

17%

Caucasian

80%

Latino

1%

Other

2%
International Students
International

0%

Domestic

100%
Learn more about Carousel of Miami Valley Beauty College:
This web site and associated pages are not associated with, endorsed by, or sponsored by Carousel of Miami Valley Beauty College. CampusExplorer.com has no official or unofficial affiliation with Carousel of Miami Valley Beauty College.