NSU Description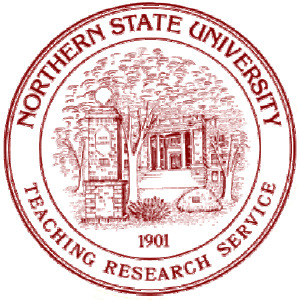 Northern State University, located within walking distance of downtown Aberdeen, South Dakota, sits on 72 acres covered in beautiful flowers, trees and plants, permitting students to learn in lush environment.
Northern State has plenty of academics for students to choose from including the Center for International Business, College of Arts and Sciences, School of Education, and School of Fine Arts. Each school has its own subset of programs, so students can choose the perfect program for them.
This school wants its students to have an active college life, so the Office of Student Activities provides recreational, social and intellectual enrichment through over 70 clubs and organizations, in addition to intramural sports and student run activities.
Students interested in NSU should meet the following admissions requirements: students should have earned an 18 or higher on the ACT, had a high school GPA of at least 2.6, or have been ranked in the top 60 percent of their graduating class; and students should have had a "C" average in all four years of English, three years of advanced math, three years of social science, three years of lab science and one year of fine arts.
The cost of tuition at NSU varies based on residency status with three levels of pricing. The first level is for South Dakota residents, who are required to pay the base tuition. Minnesota residents, pay more than the base cost, while non-residents of either state, the third level, pay the highest tuition rate of all three.
NSU offers financial aid to students who can demonstrate need. This school offers aid through grants, including federal, state, and program-specific grants; scholarships, including academic, private, artistic, athletic, and field specific scholarships; and federal work-study, which is available to students who are enrolled in at least part time and would like the opportunity to receive aid while working approximately ten hours per week. Students need to re-apply for financial aid each year.
Quick Facts about Northern State University
Setting
Small Town Setting
Size
Medium (2,000 to 5,000 Undergrad)
Website
On-Campus Housing Available
Yes
Out-of-State Tuition
$5,143
NSU Students
Full-Time Undergrad Students

2,412

Freshman Class

634

Total Students (Undergrads & Graduate Students)

2,926
Undergraduate vs. Graduate
Undergraduate

82%

Graduate

18%
Full-Time vs. Part-Time Students
Full-Time

61%

Part-Time

39%
Students Coming From In-State vs. Out-of-State
In-State

60%

Out-of-State

40%
Gender of Students
Women

55%

Men

45%
Ethnic Diversity
African-American

1%

Caucasian

83%

Latino

1%

Other

15%
Students State Origin
South Dakota

60%

Minnesota

9%

North Dakota

4%

Florida

1%

Other

26%
International Students
International

7%

Domestic

93%
Learn more about Northern State University (NSU):
This web site and associated pages are not associated with, endorsed by, or sponsored by Northern State University (NSU). CampusExplorer.com has no official or unofficial affiliation with Northern State University (NSU).