Chief Dull Knife College (CDKC)
1 College Drive, Lame Deer, MT 59043
CDKC Description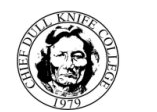 College seekers looking for a small, private, post-secondary institution should consider Chief Dull Knife College (CDKC).

CDKC is a smaller institution, with more intimate class sizes, so students get the benefit of individualized attention from their professors.

The school is located in Lame Deer, Montana on the Northern Cheyenne Indian Reservation. It is a two-year college, offering certificates and associate's degrees in the following types of programs: Agricultural Sciences, Computer Applications, Native American Studies, and Physical Education and Wellness.

Online courses can be taken in areas like: Accounting, Business Law, Introduction to Business, and Microeconomics.

Those who enroll for admissions to the school might also be eligible for financial aid to help pay for tuition and other education costs.

Other noteworthy facilities and resources at CDKC include:

*Athletic field
*Activities center
*Computer labs
*Cultural center
*Distance learning center
*Fitness facility
*Gymnasium
*Library
*Technical skills center
*Science lab
*Student lounge
*Vocational rehabilitation facility

Beyond academic programs, facilities, and resources, Chief Dull Knife College has an active student life as well. There are athletic programs, student government, and other clubs and organizations available on campus.
Quick Facts about Chief Dull Knife College
Affiliation
Not applicable
Size
Small (Under 2,000 Undergrad)
On-Campus Housing Available
No
Parking Permit Required
No
Selectivity
Open Admissions
Out-of-State Tuition
$2,260
CDKC Students
Total Students

443
Undergraduate vs. Graduate
Undergraduate

100%

Graduate

%
Full-Time vs. Part-Time Students
Full-Time

30%

Part-Time

70%
Ethnic Diversity
Caucasian

14%

American Indian or Alaska native

86%
International Students
International

0%

Domestic

100%
Learn more about Chief Dull Knife College (CDKC):
Compare to Similar Colleges