Brown Mackie College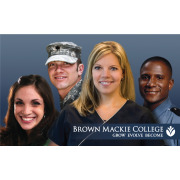 Brown Mackie College School Description
Brown Mackie College, a system of schools geared toward providing working adults with a real-world perspective on higher education and professional training, was founded as Kansas Wesleyan School of Business in 1892 in Salinas, Kansas.
Since 2003, Brown Mackie College has expanded its national presence with nonresidential, commuter-centric campuses covering 11 states across the country. There are currently 25 school locations in the Brown Mackie College family of schools.
The curriculum and professional training programs at Brown Mackie College are vocational in nature and geared toward working adults, seeking career advancement and opportunities by enhancing their education via bachelor's degrees, associate degrees, diploma and certificate programs.
As of February 2010, some 12,000 students attend the Brown Mackie Colleges, which are known for the unique, ONE COURSE A MONTH curriculum format, with the goal of learning industry-relevant, technical skills that qualify them immediately for the workplace.
See All Brown Mackie College Campuses
Find a Brown Mackie College Campus by Zip Code
Or Use the Map to Find a Brown Mackie College Campus
Brown Mackie College Campuses
1
Bettendorf, Iowa
College degrees offered: Certificate Program, Associates Degree