See All
Colleges >
Home Cooking: Healthy Holiday Alternatives
Home Cooking: Healthy Holiday Alternatives
How to avoid over-indulging during the holidays and make smart food choices over winter break.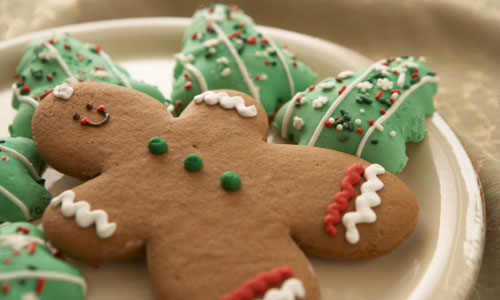 Photo: ThinkStock
Nothing says "Home for the holidays!" like grandma's homemade walnut-crusted apple pie and gingerbread cookies.
And mom's shrimp dumplings.
And Great Aunt Bertha's sugar cookies.
And your sister's hand-stirred gravy.
And the list goes on and on. The truth is that while the holidays are certainly a time for indulgence, they are also a well-known time of year for college students to pack on the pounds.
Luckily, there's a compromise that you'll find lying at the bottom of your stocking or in the midst of your well-lit menorah, and it involves swapping some calorie-laden dishes for healthy alternatives. Here's the scoop.
1. You can't "save" calories.
Rachel Begun, a registered dietitian and spokesperson for the Academy of Nutrition and Dietetics, reminds college students that it's never a good idea to "starve yourself all day in order to bank calories for a holiday party."
"This strategy can backfire, because (1) you've slowed down your metabolism and ability to burn calories throughout the day; and (2) you can potentially eat more calories at the party than you would have all day."
It is important to eat balanced, regularly scheduled meals throughout the day, and make sure to get adequate protein and fiber to help stay satisfied.
"This way, you arrive to the party just hungry enough to savor some of your favorite foods, rather than starving and ready to eat everything and anything," she said.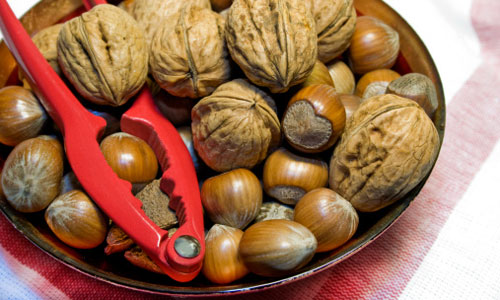 Photo: ThinkStock
2. Choose healthy eats when catching up with friends.
One of the best aspects of holiday break is meeting up with high school pals to catch up on the time you've spent apart. But it's important to make healthy choices when visiting coffee shops, restaurants or parties, said Heather Wolf, creator of the Shake a Snack app for the iPhone and iPod touch, to avoid calorie overload.
Wolf recommends choosing healthier treats, such as:
Cappuccino with nonfat milk
Herbal tea
Bottled water
One oatmeal or peanut butter cookie
One dark chocolate truffle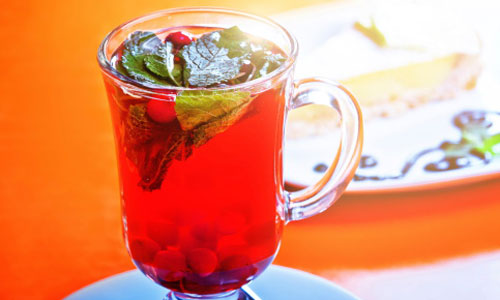 Photo: ThinkStock
Another common pressure is dealing with your parents wanting to cook all of your favorite homemade meals for you. This is very sweet, but it can quickly pack on pounds. Enjoy a reasonable portion of mom's baked mac and cheese or lasagna, but suggest a side of steamed green beans, broccoli or salad to complement it. And eating slowly will help you resist the temptation for second helpings.
3. Offer up a healthy dish.
One of the best tools for combating not-so-healthy holiday foods is to bring your own guilt-free dish when dining at a friend's or relative's home said, Dr. Lori Shemek, author of the best-selling book "Fire-Up Your Fat Burn!" Sweet potatoes, roasted broccoli with garlic and hard cheeses (versus soft cheeses) are all healthier alternatives to their fat-laden counterparts, like mashed potatoes and green bean casserole.
"Skip the rolls even if they are whole wheat –– chances are you have had enough carbs," Shemek said. "Help yourself to a double serving of salad to fill up without filling out."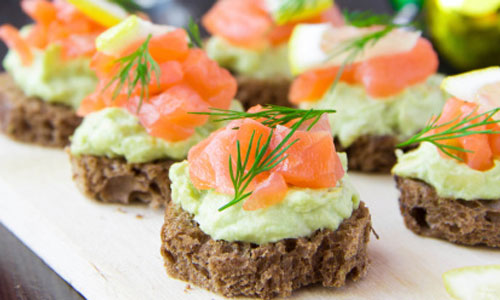 Photo: ThinkStock
4. Put the kibosh on nosy family members.
You've heard it before: "Why aren't you eating?"
It's well-intentioned, but when grandma insists on another spoonful of stuffing it's important to let your intentions be heard.
"Always diffuse the situation with a compliment and humor," said Shemek. "For example, 'Your stuffing is so delicious Grandma, but if I have another bite I'll be more stuffed than the turkey!'"
5. Try a healthy spin on comfort foods.
It's not uncommon for people to crave warm comfort foods during the chilly winter months, said Rosalie Moscoe, a registered nutritional consultant practitioner.
"We don't reach for salads in the winter as much as potatoes or other hot food," she said.
Try cooked vegetables, like squash, as a healthy alternative to casseroles or mashed potatoes. Buy it pre-cut in stores, then drizzle the squash with maple syrup and coconut oil before roasting. You can also try or butter or olive oil in place of the coconut oil.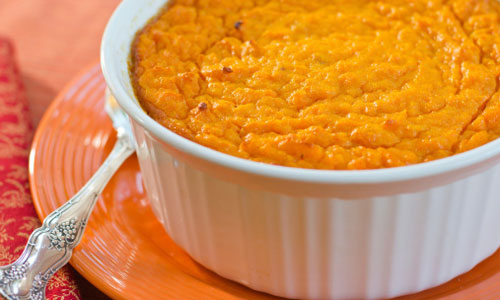 Photo: ThinkStock
Moscoe also recommends lentil, bean and vegetable soups for staying warm and satisfied. And if you want to indulge in potatoes, then use a roasting method similar to the one described for preparing squash.
"The comfort foods increase the brain's production of serotonin (the feel-good neurotransmitter)," Moscoe explained. "Serotonin improves mood, reduces appetite and promotes sleep. Just don't overload on these foods. Eat them with a protein and you won't overeat."
Quick Tips:
Eat balanced meals throughout the day to avoid over-indulging at holiday get-togethers.
Offer to bring a dish to a party with family or friends and prepare something healthy that everyone will enjoy.
Combat well-intentioned family members who like to encourage a round of seconds by infusing the situation with a bit of humor.
People Who Read This Article Also Read:
3 Holiday-Inspired Meals You Can Make in the Dorm
DIY Holiday Decor: 5 Festive Dorm Ideas
4 Colleges With Cool Holiday Traditions
How to Get in the Holiday Spirit During Finals
Foods to Avoid During Finals

Quick Search: Find the College that's Right for You!
Advertisement
Visit Our Student Center

Get on track!
And find out everything you need to know about planning for college.
Advertisement