See All
Colleges >
College Towns: Boulder, Colorado
College Towns: Boulder, Colorado
Learn more about Boulder, Colorado - home of the University of Colorado.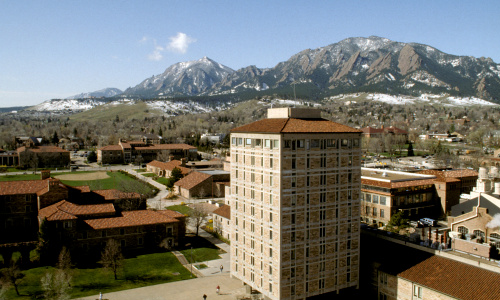 Photo: Thinkstock
The Town: Boulder, Colorado
Look for the lighted star on Flagstaff Mountain and you'll know you're in Boulder. With a gorgeous backdrop of mountain ranges and rock formations, more than 100,000 people call this city home. Located in high altitude, you can expect cold winters and hot summers. Boulder is a city with physically active people, and you can always find residents running, hiking and biking around town.
With 25,000 undergraduates and nearly 5,000 graduate students, CU- Boulder is the largest public university in Colorado. One of the best learning institutions for aspiring astronauts and aerospace engineers, the school receives more NASA funding than any other university, and is one of the foremost producers of astronaut alumni.
CU-Boulder, surrounded by more than 36,000 acres of natural setting in various parkland, is one of the most attractive universities for outdoor enthusiasts.
The premier athletic programs at CU-Boulder are cross country and skiing. The men's and women's cross country teams have won five national championships, while skiing teams have won 18 titles.
What to Do
CU-Boulder is one of the most attractive universities for outdoor enthusiasts, surrounded by more than 36,000 acres of natural setting in various parkland, with Chautauqua Park one of the most popular sites. There's something for everyone: rock climbing, hiking, skiing and snowboarding, as well as plenty of trails for running and biking.
Rocky Mountain National Park, one of the most popular and biggest of all the national parks, is close to Boulder. It offers splendid hiking, rock climbing and mountain climbing. A section of Highway 34 that runs through the park, Trail Ridge Road, rises to an altitude above 12,000 feet, making it the highest continuous highway in the country.
Pearl Street Mall, located in downtown Boulder, offers a mix of restaurants, bars and local businesses. When the weather's warm, you can find street performers and musicians lining the streets. During football season, students gather the Friday night before home games for the Stampede on Pearl Street pep rally.
Where to Eat and Drink
You can never go wrong with any of the bars and restaurants on Pearl Street, but if you're looking for someplace off the university's main strip, Walnut Brewery pairs local beers with great food. Whether you're looking for a quick and easy meal or an extravagant dinner, Walnut Brewery serves everything from sandwiches to pizza and steaks.
Did You Know?
When CU-Boulder was opened in 1875, attendance was a measly 15 students.


People Who Read This Article Also Read:
The Top 40 College Towns in the US
College Towns: Charlottesville, Virginia
College Towns: Grand Forks, North Dakota
College Towns: Tallahassee, Florida
College Towns: Gainesville, Florida
College Towns: Tucson, Arizona
College Towns: Eugene, Oregon

Advertisement
Visit Our Student Center

Get on track!
And find out everything you need to know about planning for college.
Advertisement