See All
Colleges >
7 Colleges With the Most Spooky Dorms
7 Colleges With the Most Spooky Dorms
If you love living in a constant state of fear or you're just a Halloween buff, these colleges have creepy fun dorms.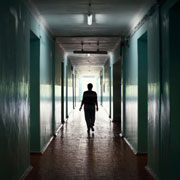 When considering which dorm you'd like to live in, it's important to think about amenities, convenience, and safety, but might we also suggest weighing the percentage of time you'll spend scared out of your wits? In these seven schools' dorms, the answer is "above average."
1. Juniata College
The "friendly campus ghost" at Juniata apparently likes Cloister dorm best, and residents embrace this by hosting an annual haunted house. We don't care how friendly your ghost is, Cloister – we're still placing you under the category of "creepy."
2. Ohio University
The ghost of a girl who died in Wilson Hall's room 428 apparently still lingers – the administration has had to permanently close the room after several witnesses reported paranormal activity. We'll be hanging out on the other side of campus, thanks.
3. University of Northern Colorado
Wiebking Hall is apparently home to a ghost named Edith who changes TV channels, moves furniture, and rolls marbles in the attic. Weird hobbies, Edith…weird hobbies.
4. University of Arizona
Every year, Yuma Hall residents turn their small concrete basement into a haunted dungeon for charity. Visitors enter with two cans of food for a local food bank and often leave with tears rolling down their faces. And you thought community service was supposed to be rewarding…
5. State University of New York Cortland
Students say that the ghost of a former SUNY football player lives in Clark Hall's room 716. Rumor has it he's still wearing his uniform, which doesn't do much at all to lower the creepiness factor, now does it?
6. Fordham University
Martyrs' Court at Fordham is supposedly haunted by children, which we think you'll agree is the creepiest type of ghost there is. Students report hearing kids' laughter and even seeing a young girl in the shower. Freshman year is hard enough without having to live inside The Exorcist, don't you think, Fordham?
7. Boston University
Shelton Hall supposedly houses the spirit of playwright Eugene O'Neill who died in the building in 1953. Count your blessings, BU – at least you're haunted by an elderly literary figure instead of a small, terrifying child.
Our sincere condolences if you happen to get assigned to one of these dorms your freshman year – we promise we won't judge you if you end up transferring before Thanksgiving break.
People Who Read This Article Also Read:
9 Most Haunted Colleges
13 Colleges With Halloween Spirit
10 Scariest College Mascots
8 Colleges With Creepy Classes
Advertisement
Visit Our Student Center

Get on track!
And find out everything you need to know about planning for college.
Advertisement