See All
Colleges >
Top Schools for International Students
Top Schools for International Students
Which colleges have the highest population of international students?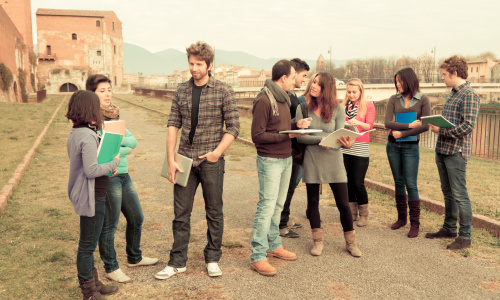 Photo: Thinkstock
When attending college in the United States, many international students want to go to a school with a large population of international students to ease the transition.
Colleges with a high number of international students often have resources like an Office for International Students or school clubs and associations specifically for international students from various countries.
Many international students are drawn to higher education in America because of the liberal arts approach that most colleges take.
For example, Harvard University, whose 2009-10 student population was 23% international students, has a bevy of international groups including the South Asian Association, the Chinese Students and Scholars Association, the African Student Association, and the Eastern European Association.
If you want to experience higher education at an American college with the comfort of a large international student community, read on to find out more about top colleges for international students.
Colleges for International Students
In general, you will have luck finding colleges with large international student populations in California, Florida, Massachusetts, New York, and Texas.
You may be surprised to find out that there are 184 colleges with more than 1,000 international students in America. The Open Doors report of 2010 shows that of these schools, those with the most international students are:
Many international students are drawn to higher education in America because of the liberal arts approach that most colleges take. It can be argued that liberal arts educations produce a more well-rounded individual who knows how to think critically.
The top three liberal arts colleges for international students are Wesleyan College in Georgia, Mount Holyoke College in Massachusetts and Principia College in Illinois.
Business is the top field of study for international students, which is evident by the high enrollment numbers from international students at business schools across America. It can be advantageous for foreign students to attend business school in America, especially if they are from countries like China or India, because many countries have close economic ties to the US. The most popular business schools for international students are:
Maryland and Texas are among the top destinations for sub-Saharan African international students, as the colleges with the highest population of these students are Houston Community College, Montgomery College, the University of Houston, Howard University and the University of the District of Columbia.
The most South African international students can be found at Harvard University, Columbia University, New York University, Northern Virginia Community College and Montgomery College.
Collectively, the top fields of study for African students are science, technology, engineering and mathematics (STEM) fields (40 percent) and business (20 percent).
The number of Chinese international students in the US rose 30 percent over 2009-2010 school year, with the largest concentration in California. The 606403 University of California - Davis, saw a 37 percent increase in Chinese students.
Transitioning to college as an international student is difficult for most people. If you think you might need some extra help adjusting to your new environment, search out schools that have your major of interest and a high population of international students.


People Who Read This Article Also Read:
How to Apply to College as an International Student
Student Visas
International Exchange Programs
Prospects for International Students After Graduation
African International Students
EU International Students
Indian International Students
Middle Eastern International Students

Advertisement
Visit Our Student Center

Get on track!
And find out everything you need to know about planning for college.
Advertisement