See All
Colleges >
Basic High School Graduation Requirements vs. College Preparation
Basic High School Graduation Requirements vs. College Preparation
Fulfilling your high school graduation requirements may not be enough to prepare you for college. Learn how to approach your high school academics so that you'll be ready for college.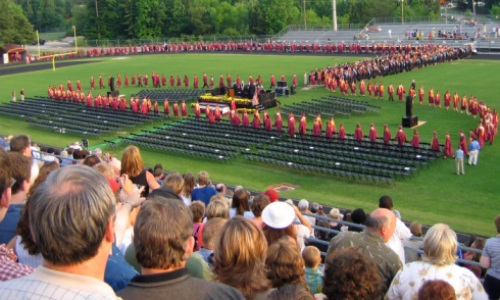 Photo: Thinkstock
All of your studying and hard work has paid off. It looks like you're on track for high school graduation.
But the question remains: is being ready for high school graduation the same as being college ready?
The short answer? Sort of.
It's a start, but college eligibility differs in many ways from high school work.
Going Beyond the General High School Requirements
Many high schools require the basics in education. Four years of English, Biology, Chemistry, various forms of math, electives, and the other fundamentals have thus far made up your education.
Colleges, however, expect their prospective students to go above and beyond the high school requirements to develop college readiness skills.
Preparing your mind to be college ready is just as important as the classes you take or the extra curricular you engage in.






While it isn't a requirement for most high schools, many colleges desire two years of a foreign language, an extra year of science and/or extra math classes. It's important to check the university requirements as soon as possible. If you are behind in courses, there is always the option of taking a night class at a local community college to catch up. It's never too late to ensure your future plans.
Another part of college preparation is standardized testing. The SAT is a requirement for most four-year colleges. Signing up for an SAT preparation course can help you get a leg up, as the test scores can give you an additional boost in the eyes of the college admissions board.
The Difference Between High School and College Work
In high school, we spend around 30 hours per week in class. Our schedules are set, with classes from 8 a.m. to 3 p.m. Every day is the same. Teachers tell us exactly what we need to do, and when we follow these directions, we succeed in our classes.
Yet according to a study by McGraw-Hill Education, some college students don't feel that their high schools prepared them for the much more difficult standards of college. Therefore, it may be in your best interest to begin extra college preparation on your own. Part of that preparation is having an idea of what to expect from college.
College class schedules are not like what they were in high school. Each class has its own schedule, so Monday may be completely different than Tuesday, and so on. Every student is responsible for knowing when homework and essays are due, as well as when quizzes and tests will occur.
Also, in high school you become accustomed to relatively small class sizes where you may always be able to get individual attention from the teacher. However, in college, classes can have 100 students or more, making it a struggle to get any personal consideration. If you're struggling in a class, it's important to make an appointment with your professor to discuss tutoring or extra help, or what you can do to improve in the class. Most professors offer office hours once or twice per week. Email the professor and find out when you can meet with him or her. It'll benefit you in the long-run.
Why College Preparation is Important
College preparation is not just the classes you take or the extra curricular activities you engage in.
Preparing your mind to be college ready is just as important too. Essays and tests will be more difficult. Taking notes in class will be essential to doing well in college and will make studying for exam time a lot less stressful than being unprepared. There will be substantial more reading and homework. Work outside of the classroom will be just as necessary for your success as the work inside the classroom.
Knowing all this is half the battle.


People Who Read This Article Also Read:
What is a GPA?
What is a High School Transcript and Why is it Important?
Valedictorians: Who Are They and How Are They Chosen?
What is Class Rank?
AP Classes: An Introduction
What's an International Baccalaureate?
Taking College-Level Classes Outside Your High School
Taking Vocational Courses in High School

Advertisement
Visit Our Student Center

Get on track!
And find out everything you need to know about planning for college.
Advertisement