See All
Colleges >
The GED, IB, CLEP and Other College Admissions Tests
The GED, IB, CLEP and Other College Admissions Tests
Learn all about the types of tests you can take to prepare for college admissions.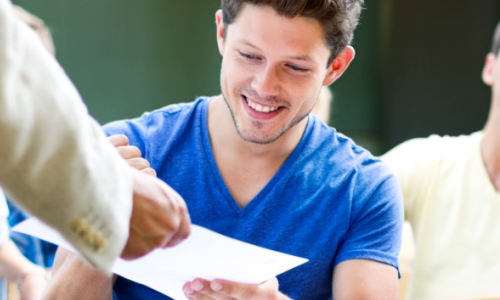 Photo: Thinkstock
Get your pencils ready. There are a lot of different tests out there students take in preparation for college. Find the college tests you need to take to help you in your college search and admissions process.
General Education Development Test (GED)
The General Education Development Test (GED) is a group of five tests on different high school subjects and is equivalent to a high school degree. Only people who don't have their high school degrees can take this test. GED scores are accepted at most colleges and universities, so you can use the GED for college admissions or online degrees.
To pass the GED, test takers must have scores that are equal to or higher than 410 in each of the five GED tests.
Keep in mind, however, that although a GED is technically equivalent to a high school diploma, an official high school diploma will give you a better chance of being accepted at top colleges and universities.
To pass the GED, test takers must have scores that are equal to or higher than 410 in each test. The scores for each test range from 200 to 800, and you will be tested in the following areas: writing, reading, social studies, science and math.
The cost of the GED test varies by state, jurisdiction, province or program. Some states don't charge anything and some do, and the fees can largely vary depending on the state. You need to contact the GED testing center nearest to your home to check on the prices and testing dates.
There are distance learning programs that offer GED preparatory courses. Also check with the community college nearest to your home: many colleges offer a GED preparatory program which is often free for local students. Additionally, there are Adult Basic Education Centers all over the country that can provide you with GED preparation classes and programs.
International Baccalaureate (IB)
The International Baccalaureate (IB) Diploma Programme is an international education two-year high school program for students who are between 16 and 19 years old. This program is widely recognized by colleges and universities all over the world because of its challenging curriculum, which helps prepare students for university majors and a career. An IB program will help you widen your college search options, because colleges give weight to this type of academic achievement when evaluating students through their admissions processes. In addition, many colleges award college credit and advanced placement for high scores on IB examinations completed in high school.
The program is divided into six courses within three major areas: extended essay, theory of knowledge and creativity, action and service. Three courses have 240 teaching hours and the other three subjects have 150 teaching hours, which is the standard.
Only IB World Schools are able to offer the Diploma Programme. You can find an IB World School near you through the IB website. There are two types of fees: one is the registration fee, $129, paid once for one or more examinations; the other fee is the subject fee, $88, which is paid when a student takes a single test.
Advanced Placement (AP)
The Advanced Placement (AP) tests taken in high school can give you college credit and advanced placement for classes in universities and colleges. The AP program is offered by high schools throughout the country. Talk to an AP coordinator or teacher about how to enroll in the program. It's worth taking more advanced classes: Students who have been in an AP program are more prepared to go to university because they have already experienced college-level classes in high school.
There are more than 30 AP courses and exams, and the tests are scored from one to five. The tests usually cost S86, and exams are given in May.
College Level Examination Program (CLEP)
The College-Level Examination Program (CLEP) is composed of exams that test your college-level knowledge and can grant you college credits. This knowledge can come from all walks of life: coursework, independent study, homeschooling, international education, travels, military service schools or careers.
The test costs $72, and most of the tests take about 90 minutes each. The tests are primarily multiple-choice exams, scored from 20 to 80. Most schools give credit to scores higher than 50, but passing scores can vary from school to school. The tests can be taken at testing centers at more than 1,400 colleges and universities all over the United States and abroad.
Armed Services Vocational Aptitude Battery (ASVAB)
The Armed Services Vocational Aptitude Battery (ASVAB) is a series of multiple-choice aptitude tests that measures your strengths and weaknesses for civilian and military careers. You will be tested in arithmetic reasoning, math knowledge and verbal composite.
The ASVAB website offers practice tests to help you prepare. Talk to your school counselor or local military recruiter to sign up for this test.


People Who Read This Article Also Read:
SAT Subject Tests: the Essentials
ACT: The Essentials
SAT or ACT: Which Should You Take?
Should You Send All of Your SAT Scores to Colleges?
What's a Good SAT Score or ACT Score?
PSAT/NMSQT & the PLAN (Pre-ACT)
Low SAT or ACT Test Scores? You Still Have College Options
TOEFL: The Essentials

Quick Search: Find the College that's Right for You!
Advertisement
Visit Our Student Center

Get on track!
And find out everything you need to know about planning for college.
Advertisement