College Gaming Clubs
Learn about what chess club, gaming club and strategic games club and what these types of student organizations do on campus.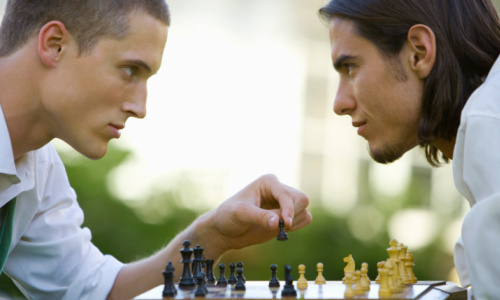 Photo: Thinkstock
In a chess matchup between Miami Dade Community College and Yale, who would you pick to win? If you picked Yale, you're wrong.
College chess tournaments are one of the most popular student activities nationwide, and in 2007, Miami Dade rolled through the likes of Yale, Dartmouth and Harvard.
Don't take the competition too seriously, even if you're in a tournament.
Whether you like board games, card games, or video games, you're likely to find a student organization full of like-minded individuals. Involvement can range from friendly matches to national competitions.
Example Gaming Student Organizations
Gaming clubs vary from school to school, but these examples will provide you with a glimpse of what you may be able to find.
Playing on gamer jargon, the University of Minnesota's The Pwn Gaming Club allows students to play and discuss video and computer games. You can attend in-person or digital meetings, as the The Pwn Gaming Club hosts LAN parties every Thursday and Friday in addition to traditional get-togethers.
Because of its popularity as a recreational and competitive activity, the University of Missouri Chess Club hosts informal matches as well as tournaments. If you're new to the game, you can attend meetings that will teach you strategy and tactics. The group is also involved in community service, running a tournament at a local middle school.
Some of your most cherished childhood memories may have been playing board games such as Chutes and Ladders, or collectible card games such as Magic: The Gathering. The Stanford Gaming Society promotes all forms of non-electronic gaming once a week.
Are you looking for a less competitive and more relaxed environment? University of Pittsburgh hosts a regular game night that does not require membership (though you can join the committee). Students enjoy table tennis, table hockey and board games, as well as having food and drink. If you own a game you'd like to play, bring it with you.
Gaming Clubs: Tips and Tactics
Check to see if the group has a message board or mailing list. In most instances, you'll get more up-to-date information than a website.
Bring snacks for others to enjoy. There's no faster way to make friends than with a little free food.
Talk to faculty members about the school resources you can use. For example, if you need an extra television for a video-game night, you might be able to borrow one from the university.
Don't take the competition too seriously, even if you're in a tournament. Be a humble winner and a gracious loser. Have fun.
People Who Read This Article Also Read:
Honor Societies on Campus
Student Organizations: An Overview
Student Government
Environmental Groups on Campus
Student Religion: Religious Groups on Campus
The College Academic Calendar
Academic Competitions for College Students
How To Start Your Own Student Organization

Advertisement
Visit Our Student Center

Get on track!
And find out everything you need to know about planning for college.
Advertisement