See All
Colleges >
How to Get Your Employer to Pay for Your Graduate Studies
How to Get Your Employer to Pay for Your Graduate Studies
Step-by-step directions on asking your employer for financial assistance with graduate school.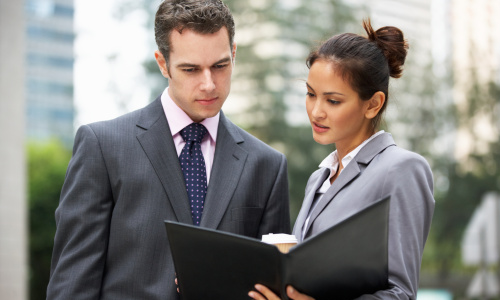 Photo: Thinkstock
Want free money toward your graduate degree? Ask your employer. You may be surprised to find out that they are more than willing to help you.
Over half of employers in the US already have a tuition assistance program in affect. For those who work for such companies, getting aid will be relatively easy. Simply talk to your human resources department to set up a personalized tuition assistance plan. For all other employees, the process of receiving aid for graduate school may take a bit more planning.
Check with your employer to see if they have partnered with colleges to provide free courses specific to your career
Action Steps for Getting Your Employer to Pay for Your Graduate Studies
Do Your Research on Graduate Studies
Choosing to attend a graduate school is not an easy decision, but it is a breeze compared to what comes next. Narrow your selections by researching programs and schools and have this information ready before speaking with your employer.
Once you have decided, make a list of the courses offered in the graduate degree program that are relevant to your job. This will show your employer that you are prepared and serious about earning a masters degree or Ph.D.
In addition, do research on how your company is doing in the market compared to their local and regional competitors. With this information, you can explain to your employer how earning your masters degree or Ph.D. will help the company surpass their competitors.
Ask Your Employer to Pay for Your Graduate Studies in Writing
Before setting up a meeting to talk with your employer about helping to pay for graduate school, give them a heads up about the discussion. Send them a letter or Email to outline what you will be discussing and to pose any initial questions or concerns about the terms of the tuition assistance. Some common questions include:
How long do I have to work at this company in order to receive tuition assistance benefits?
Will I have to reimburse the company for tuition spent if I leave the company before my degree is completed?
Am I required to stay with the company for a certain length of time after I complete my degree?
Address Concerns about Your Graduate Degree
Although many companies are happy to help their employees better themselves through earning a masters degree or Ph.D., before forking over thousands of dollars they'll want to be certain of a few things.
First of all, the majority of employers will require that you are pursuing a degree that relates to career. So, if you're in finance, but want to earn a masters degree in early childhood education, chances are your employer is going to decline your request. Assure your employer that the degree can easily be translated to your company. They want to be able to reap the benefits of your degree, too.
Going along these lines, your employer will also want to make sure that you plan on staying with the company for a certain amount of time, usually two years, after your earn your masters degree or Ph.D. In most cases, you will sign a contract detailing specific time requirements.
How much time is your degree going to take? Will it interfere with your work? You will need to have answers to these (and more) questions. You can easily pacify your employer's concerns over time requirements by attending online graduate school, low-residency classes or night classes.
If you do choose an online school, make sure that your employer values your online masters degree or Ph.D. A recent study shows that 60 percent of employers value an online degree as much as a degree earned at a traditional bricks-and-mortar college. Whether or not it is an online degree, your employer will always be concerned with your graduate school's accreditation.
Sell Yourself (And Your Graduate Degree)
Before investing in your education, your employer will want to assess your value to the company. For solid evidence of your performance, make a list of past accomplishments in the company. Explain how your degree program will provide you with knowledge applicable to your position and increase your worth to your employer.
Tips and Tactics on How to Get Your Employer to Pay for Your Graduate Studies
Check with your employer to see if they have partnered with colleges to provide free courses specific to your career. If a full masters degree program is not offered, you will at least be able to knock off some core classes towards your degree.
Find out if your state offers tax breaks for employers who offer to pay for graduate studies. This will be especially enticing to an employer who might be on the fence due to financial commitment.
If your state does not offer tax breaks, your employer still might be able to write off part of your tuition as a training expense.
To make sure that your tuition assistance is renewed each semester, keep your end of the bargain. Earn high grades, don't let classes interfere with work and give them notice before each semester begins, rather than relying on them to remember.
People Who Read This Article Also Read:
Top 10 Tips to Pay for Graduate School
Masters Degree Scholarships, Grants, Fellowships and Assistantships
Graduate Student Loans: What are my Options?
How to Get In-State Tuition as a Graduate Student
Why Should You Apply for Graduate Financial Aid Early?

Advertisement
Visit Our Student Center

Get on track!
And find out everything you need to know about planning for college.
Advertisement