College Social Media
Learn how colleges and universities are using Facebook and other social media tools in the service of higher education.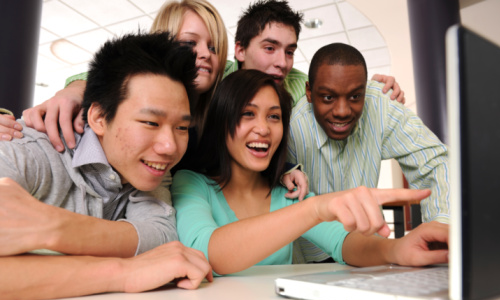 Photo: Thinkstock
As new technologies are continuously integrated into the classroom, more colleges are using social media in higher education.
Universities are at the forefront of social media in the workplace. A recent study found that on average, 91 percent of faculty members use social media in some form, compared with only 47 percent in other fields.
So how exactly are professors and other college employees using social media?
Social Media vs. Course Websites: What's the Difference?
Many professors set up a website for every course they are teaching. These sites serve a slightly different function than social media outlets. Course websites provide an overview of the class. This is where you can find a syllabus, exam schedule and general information about books and coursework.
Social media takes on a much more interactive role and go beyond the classroom. You can ask and answer questions with your classmates and professor, get reminders about homework and other smaller assignments, and stay up to date on campus events.
Social Media and Education
Here are some of the ways universities across the country use social media to make the college experience all the richer.
While social media can greatly enhance your college experience, it can't take the place of classes. Use any resources your professor provides you with to supplement your lectures, seminars and discussions, but never think that they are adequate replacements.


People Who Read This Article Also Read:
Student Government
Politics on Campus
Environmental Groups on Campus
Student Religion: Religious Groups on Campus
Academic Competitions for College Students
Collegiate Community Service

Advertisement
Visit Our Student Center

Get on track!
And find out everything you need to know about planning for college.
Advertisement