See All
Colleges >
Make Your Application Essay Stand Out
Make Your Application Essay Stand Out
Writing a college essay doesn't have to be difficult. Follow these tips to write a college essay that shows your personality.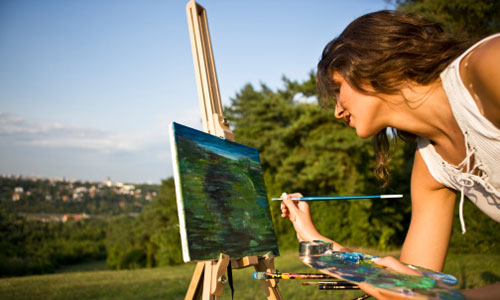 Photo: ThinkStock
Many colleges and universities require a personal essay as a key component in their admissions application. If you're like most students, you'll find the essay the most stressful part of completing your application. But it doesn't have to be. The best part about this admissions essay is that it will be on a topic you totally understand and already have done all the research on: yourself! And who better than you to write about that?
Your college application essay is your chance to show the admissions officers how you think, how well you write, and who you really are. It's your best opportunity to show each college or university why they should accept you into their program. Here's how to make the most of it.
Writing in the active voice often makes your sentences stronger and more clear.
College Application Essay Topics
Familiarize yourself with the types of topics you may be asked to write about. Think about how your academic and personal skills and accomplishments can be used to answer these questions. If you already have applications from colleges and universities in your college search, look at what the essay questions are.
If not, here are some examples of essay topics. You may find the college or university gives you a choice of topics or assigns a topic similar to one of these:
Tell us about yourself.
Write about an academic or extracurricular interest or idea and how it has shaped your life.
Tell us why you want to come to this college.
Show us an imaginative side of your personality.
Name a major challenge you've overcome and how it has affected your life.
What careers are you interested in, and what are your long-term career goals?
10 Tips for a Successful College Application Essay
1. Use your own voice: You want to impress admissions officers with your abilities, not with your ability to use big words.
2. Be engaging: This means let your personality shine through your creative writing style. Stick to the topic but keep in mind that the school admissions officers are slogging through hundreds of essays a day. What will make yours stand out from the rest?
3. Keep it personal: This college application essay should be one that only you can write and that will set you apart from other candidates.
4. Less is more: Keep your admissions essay short and to the point. You won't get extra credit for wordiness. If you find the college has requested a specific word count, don't go over.
5. Avoid slang: Yes, your essay should be written in your own voice, but in a professional version of who you are. Remember your audience: admissions officers. Write the way you'd speak to them in an interview.
6. Complement your application: Don't just repeat what's already written in your application. You can highlight some important aspects, but take this opportunity to share additional information about yourself to paint a complete picture of who you are and what you have to offer.
7. Use the active voice: Writing in the active voice often makes your sentences stronger and more clear. Not sure what active voice is? In a sentence written in an active voice, there is a clear subject performing an action. For example, "Chris received a college acceptance letter" is in active voice since "Chris" is the subject and is actively receiving an acceptance letter. In passive voice, this sentence could be written, "The acceptance letter was received by Chris." In this version, the acceptance letter becomes the subject, and Chris takes a passive role.
8. Stay on topic: Make sure each sentence of your essay answers and supports your essay topic. Throwing in additional information will dilute, rather than strengthen, your essay.
9. Rewrite: Your first draft is just that: a first draft. Allow yourself the time to rewrite, reshape and re-craft your essay as needed until you feel confident it represents you the way you want it to.
10. Ask people to read it: Before sending off your college application essay, have friends, family members and teachers read it. Ask your readers if your essay answers the topic, if there are sections that are unclear or could be improved, and if the essay represents you in the best way possible.
Depending on your college search, you may find that some of your schools do not require an essay as part of the application. You're unlikely to find an essay requirement if you're applying to a community college or distance learning program. But knowing how to write an essay is a valuable skill you will need regardless of the type of education you pursue. Essays are common assignments in many college majors, as well as in graduate programs like the MBA. So learning good essay writing skills now will help you as you continue to pursue degrees or embark on your career.
People Who Read This Article Also Read:
The Admissions Process: What Are Colleges Looking For?
Preparing for Your College Interview
College Essays: Tips and Sample Questions
College Letter of Recommendation

Advertisement
Visit Our Student Center

Get on track!
And find out everything you need to know about planning for college.
Advertisement