See All
Colleges >
Small College Sports Powerhouses
Small College Sports Powerhouses
These small college sports powerhouses rule athletics at their levels.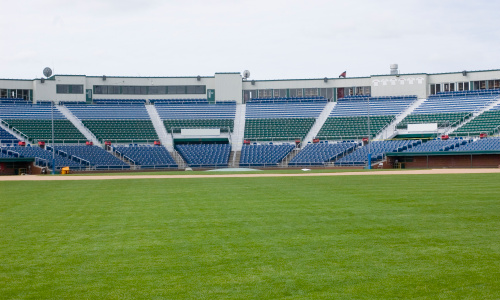 Photo: Thinkstock
When it comes to college sports, big Division I sports colleges get most of the attention. They have great players, win national championships and set any number of impressive scoring records.
But plenty of small colleges field remarkably strong sports teams. These schools may not have the biggest names or the most national TV coverage, but that doesn't mean they can't play.
Check out a few of the small colleges that perennially make a strong showing in athletics.
Division II and III are the smaller schools, which sometimes only sponsor a few sports.






Small College Powerhouses
What defines a small college sports powerhouse? We may think that Division I means the best in the NCAA, but it actually has to do with college size and financial obligations. A D-I school has to sponsor a minimum of seven sports for both men and women, as well as meet certain minimum criteria for participation, number of games against other D-I schools, and amount of financial aid granted for athletic ability.
Division II and III are the smaller schools, which sometimes only sponsor a few sports, and may not give any athletic scholarships. Despite this, many of these schools have reputations as NCAA sports powerhouses.
The University of Saint Francis (Indiana)
The University of Saint Francis competes in the NAIA, the National Association of Intercollegiate Athletics, which governs a lot of the smaller colleges and universities in the United States. The university serves only around 2100 students, but the Saint Francis Cougars compete in 10 sports.
Their men's basketball team appeared in the last two NAIA Division II National Tournaments and won one in 2010. Since 1999, the football team has lost three or fewer games per season, including maintaining three perfect seasons. The team has been to the national tournament three times as well.
Kenyon College (Ohio)
The oldest private college in Ohio competes in the North Coast Athletic Conference as a Division III school in the NCAA. The Lords and Ladies of Kenyon College are known for their incredible swimming programs, easily ranked the best in the entire NCAA D-III. The men's swimming team won a record 31 consecutive national championships from 1980 to 2010. The women's team has also won 23 titles, including 17 in a row.
Newberry College (South Carolina)
Newberry College is a Division II NCAA school and has a fantastic small college golf team. Competing in the South Atlantic Conference, they are the first school in their conference division to qualify for the D-II National Championship twice. Though it serves barely more than 1000 students, the team is ranked 14th in the nation on GolfStat.com.
Trinity College (Connecticut)
If you're interested in a unique small college sports team, try the Trinity squash team. Though the Trinity Bantams compete in Division III for most sports in the NCAA, including football, basketball, and baseball, their stupendous squash team gets the most press.
The Bantams hold the record for the longest winning streak for any intercollegiate sport in the entire United States. They have won 244 consecutive games and 13 consecutive NCAA national championships since 1998.
In addition to their stellar squash performance, Trinity College has won national championships in baseball, attained undefeated football seasons, and are consistently ranked in the top 5 in NCAA Division III competition for both men's and women's rowing.


People Who Read This Article Also Read:
Club Sports in College
How is the NCAA Structured?
Division I Sports Conferences
Where Did Pro Baseball Players go to College?
Where did your Favorite NFL Players go to College?
Where Did American World Cup Stars Go to College?
College Bowling

Advertisement
Visit Our Student Center

Get on track!
And find out everything you need to know about planning for college.
Advertisement