See All
Colleges >
The College Interview
The College Interview
Learn tips and techniques to ace the all-important college admissions interview.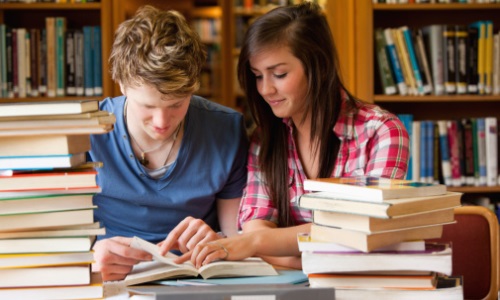 Photo: Thinkstock
You've conducted an exhaustive college search. You've sent each college application in on time. You filled out all the forms correctly and wrote a powerful essay. All has gone well with the admissions process up to this point. Then it's time to visit the colleges and universities you're applying to for a one-on-one interview. First step: Stay calm. The more pressure you put on yourself, the greater the chances you'll freeze up and not present yourself in the best light. Be prepared, and you'll find college interviews to be a breeze.
As you perform your college search, you'll discover which colleges and universities require a personal interview as part of their application. Typically, these interviews last around 30 minutes and are conducted by a college admissions officer. But don't worry if your interview doesn't go that long, or if it goes longer. Each school, and each interviewer, will have its own format for how the interview is conducted.
You're interviewing to become part of a particular school's student body. This means from the moment you are accepted, you'll be representing that college or university, so you want to present yourself accordingly.
Not all schools require interviews. For community college and distance learning programs that offer online degrees, for example, you probably won't be called upon for an interview. However, even if the particular school you've applied to doesn't require an interview, there is nothing wrong with contacting the admission office to request one. If you're good at interviews, this will help you stand out from the pack, and may make the difference between being waitlisted and being accepted to a school. That said, if you don't think an interview is your strongest suit and they don't ask for one, don't request one. Let your strong grades, test scores and application speak for you.
Here's how to prepare yourself for the interview:
1. Have Your Own Questions Ready:
Think of some questions about each particular college or university, like the style of education or the extracurricular activities. Maybe you want more details about undergraduate preparation for an MBA program or new courses being offered at the school. If you know which major you're interested in, ask about faculty members or the course curriculum. You can also ask what kind of careers graduates go on to pursue. The more you tailor your questions to that specific school, the more you show the college admissions counselor how informed and interested you are about becoming a student there.
2. Practice Your Interview:
Ask a family member or friend to practice interviewing you so you get comfortable answering college questions out loud. But keep in mind that while it's good to be prepared, you don't want to come off as overly rehearsed. The admissions officer wants to get to know you as a person and as a student. Some sample questions you should practice answering include: What majors are you interested in? What is the highest level of degree program you want to pursue? Why do you want to come to this college or university? What are your career goals after graduation? In addition to practicing how you'll answer common interview questions, be sure you read over your college application to that school, so you can refer to it and emphasize your academic strengths and personal achievements.
3. Dress the Part:
You're interviewing to become part of a particular school's student body. This means from the moment you are accepted, you'll be representing that college or university, so you want to present yourself accordingly. A college interview is a lot like a job interview. Dress appropriately.
College Interview Tips & Tactics
Don't show up late. Allow yourself plenty of time to find parking and walk to the interview office. If you get there early, walk around the college, or sit in the admissions office and read through the college brochure to see if you have any more questions about the school.
If you're applying to colleges far away from you and don't have the money or time to visit each one, contact the admissions office to find out if you can set up a Web conference instead. With advances in technology making this a viable alternative, you'll find a number of colleges will accommodate this request.
You may also be able to schedule an interview with an alumni representative near where you live, rather than traveling to the school.
Interviewing is a skill, and you'll get better with practice. If possible, schedule your first interview with a safety school or a college you're not sure you want to attend. That way, you'll be warmed up when it's time to meet with your top schools.
Always send a thank-you note. Refer to topics you discussed or information the admissions officer gave you to further reinforce your interest in the school. Showing a school you're interested in them gets their attention and makes them more interested in you.
People Who Read This Article Also Read:
The Admissions Process: What Are Colleges Looking For?
Preparing for Your College Interview
Make Your Application Essay Stand Out
College Essays: Tips and Sample Questions

Related Timeline Articles
Advertisement
Visit Our Student Center

Get on track!
And find out everything you need to know about planning for college.
Advertisement