See All
Colleges >
In Demand Careers in Business
In Demand Careers in Business
What are the most in demand business degrees?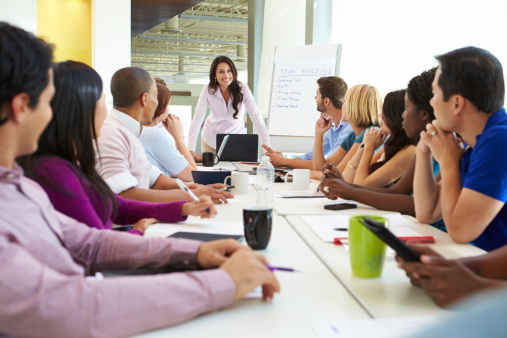 Photo: ThinkStock
By Merrissa Saunders
Business is the backbone of the US economy, which explains why a lot of the most in demand careers are in the business sector. Business degrees are among the most sought after degrees in America. According to the National Center for Education Statistics, 22 percent of college students are pursuing a bachelor's degree in business.
The growth in business majors directly correlates to the number of in demand business careers that are popping up across the country. The areas that have seen the most growth in business are Washington DC; Northern Virginia; Austin, Texas; Houston, Texas; Kansas; Tennessee; Illinois; and New York.
Combine your passion with a business degree to take on positions with greater responsibility. For example, engineers who wish to move into management have a greater chance at landing the job if they have a Bachelor's of Business Administration (BA) or Masters of Business Administration (MBA) in addition to their engineering degree.
General Business Degree
Are you unsure about the specific field of business you wish to pursue? An associate's or bachelor's degree in general business will provide you with basic skills in marketing, accounting, finance, business management and human resources. From there, you can decide which specific occupation you want to pursue. You may then go on to advance in your business career by obtaining your MBA, or other master's degree in a business related field.
Management Degree
The perfect candidate for a job in management is analytical, detail-oriented and possesses strong leadership and communication skills. A manager oversees the rest of the company's administration, or if the company is large, he is assigned to a particular department.
A certificate or associate's degree in management will allow you to move into entry-level jobs in retail and other service related industries. In all other business sectors, applicants are usually required to hold a bachelor's degree in management. However, a master's degree in management will qualify you for top level management positions, which are among the highest paid jobs in the country.

Related management degrees:
Accounting Degree
Mathematicians are encouraged to pursue this in demand business career. Accountants manage company financial records, file taxes and ensure that organizations are in compliance with state and federal tax laws. Becoming a Certified Public Accountant (CPA) is not required, but is strongly encouraged if planning to advance your career.
Most people pursuing a career in accounting attend a bachelor's degree program. However, there are also career opportunities for those who have a certificate and associate's degree in accounting. These programs prepare students for junior level accounting positions, such as bookkeeping and accounting clerks. Some employers are now requiring applicants to have a master's degree in accounting or a MBA with a concentration in accounting.

Related accounting Degrees:
Administrative Degree
There are many administrative positions that do not require you to have a degree in administrative services. However, most employers prefer that you have at least an associate's degree in a related field. Administrative services training programs typically last one to two years and result in a certificate or associate's degree. This should be enough training to land you entry to mid-level position. Few students go on to obtain their bachelor's degree in administrative services, as it is usually not required for advancement.

Related administrative services degrees:
Human Resources Degree
Human resources specialize in training an organization's labor force. Recently, it has become more common for those in human resources to also consult with top executives to create strategic business plans specific to labor. A bachelor's degree in human resources is the most popular degree track.
Some students choose to earn a 2-year career training associate's degree, or complete a certificate program for an assistant position. Strongly consider completing an internship in this field while you are still in school, as this will give you a better chance at getting a job after graduation. For larger companies, a master's degree may be required.

Related human resources degrees:
Marketing Degree
Marketing majors learn how to sell products that the public wants or needs. This is a popular major and job competition upon graduation is fierce. As with human resources, an internship while you are still in school is recommended to increase your job prospects. Most students pursue a bachelor's degree in marketing, although there are certificates and associate's degrees in marketing, they are reserved for people who have already obtained a bachelor's degree in another field.

Related marketing degrees:
Finance Degree and Financial Services Degree
A career in finance or financial services is great for number crunchers and those comfortable with computer technology. The majority of finance students pursue a four year bachelor's degree program because most employers require it. Larger and more prestigious companies will require applicants to hold a master's degree in finance.
If you are looking for a faster route to a career in finance, there are 1 to 2-year certificates or associate's degree programs available at community colleges, technical schools, universities and online. This track will qualify you for positions such as financial services sales and financial clerk careers.

Related finance Degrees:
People Who Read This Article Also Read:
In Demand Careers in Health & Medical Services
Top 25 Fastest Growing Industries
Top 25 In Demand Jobs and Fastest Growing Occupations
Top 25 Occupations with the Highest Employment
Top 25 Occupations with the Most Openings

Advertisement
Visit Our Student Center

Get on track!
And find out everything you need to know about planning for college.
Advertisement