See All
Colleges >
Ways to Make Your Freshman Year Memorable
Ways to Make Your Freshman Year Memorable
Freshman year can be crazy and intense, but you can make it one of the best years of your life.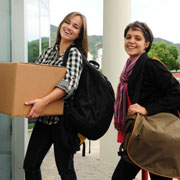 Whether you are terrified, nervous, or just plain excited, your first year of college is filled with new experiences and emotions. For some it's exhilarating, while for others, freshman year can feel overwhelming. You have to figure out which classes to take, make sure to spend study time in the library -- and have all-night chat sessions with your new roommate, of course! With hundreds of new opportunities to socialize and have fun, on top of your schoolwork and exams, your first semester is going to fly by, so we suggest taking some time to make your freshmen year memorable.
Search for Your Place on Campus
Finding people with shared interests and groups to join are some of the most important things you can do your first year. Go to orientation and any other events that might tell you what kinds of activities are available at your college. Join a club or two. Since it's your first year, don't worry about leading a club just yet. Get started by attending meetings or events hosted by clubs or sports teams that you like. Many clubs will have introductory meetings in the first couple of weeks, so look for flyers around campus, campus-wide emails and Facebook events.
"Take every opportunity to go places, explore, and have fun."
"Take advantage of being 'new' by asking questions and introducing yourself to as many people as possible," says Jason Zelesky, the Associate Dean of Students at Clark University. Upperclassmen can be a great resource; make the most of their knowledge and ask lots of questions.
Have Fun AND Be Safe
College isn't supposed to be all work. Of course, you should have some fun too! Attend on-campus parties or dances. If the party has a theme, like togas or masks, go with it!
Alternatively, if the party scene isn't for you, that's okay. You won't be the only one. Reach out to different people you meet and connect to those with similar interests. Maybe you go horseback riding, try singing karaoke, become a master at Quidditch, attend concerts, or host a video game tournament.
No matter what you decide to do, be safe. Zelesky cautions against falling for the stereotypical "Gossip Girl" or "90210" types of wild college scenes. "Many first year students believe that making memories is equal to engaging in some high-risk behaviors -- drinking, partying, substance abuse. This is not true," he says. If you get caught up in potentially dangerous activities like binge drinking, you could end up compromising the ultimate goal of college: earning a degree. Have fun, but make sure you take care of yourself and keep your social life under control.
Find Your School's Traditions
Many colleges have different traditions that can be fun for you by yourself or in a group. Clark University hosts an annual International Gala, a showcase of dance, music, and fashion from around the world. It's one on-campus event students don't want to miss. At Princeton University, most students and some alumni show up to celebrate longstanding traditions like the 1 or Lawn Parties. University of California at Davis hosts their Whole Earth Festival each year to have fun and ignite the campus's sense of activism. Some traditions, like Dartmouth's lucky statue, don't involve any event and can be done at any time.
Discover the traditions your school has to offer and talk to other freshman about participating. Many schools will also have "unofficial" traditions that won't appear in admissions pamphlets or official school websites. To find out about those, ask some upperclassmen or your resident advisor.
Seize the Day
Planning what activities you want to try and social events to attend is highly encouraged. But don't discount the benefits of being spontaneous. Nihar Suthar, a rising sophomore at New York University, fondly remembers exploring New York City and randomly having a pull-up contest on a traffic light post with her friends. Even some strangers joined in on the fun. It was random, unplanned, and maybe even a little odd, but it's a memory Nihar will always have.
"Take every opportunity to go places, explore, and have fun," she says. Nihar also knows it's not all fun and games. She concentrates on completing her school work and started a business, Hype Up Your Day Inc., her freshman year. Having well-developed time management skills, like Nihar, will help you do all the things you need and want to do your first year.
Quick Tips
Doing well in school is important to your sanity as a freshman. University has a tool that will evaluate your study skills and let you know how to improve. You can also talk to your academic adviser or your college's tutoring center if you need help.
You may think you need to have a set group of friends that you do everything with. Sometimes this happens, but it's more likely that you will have different circles of friends for the activities and classes you take. Having a diverse group of friends can really help make the college experience better.
Take pictures! You'll forever have evidence of all the great memories of your freshman year. And with Facebook and Instagram, you can share these memories with friends and family back home.
People Who Read This Article Also Read:
How Should I Pick My Freshman Year Classes?
What is a Freshman Seminar?
College Classes: A New Student's Guide
7 Best Study Tips for College Students

Quick Search: Find the College that's Right for You!
Advertisement
Visit Our Student Center

Get on track!
And find out everything you need to know about planning for college.
Advertisement