The Gap-Year Options
Should you take time off before starting college?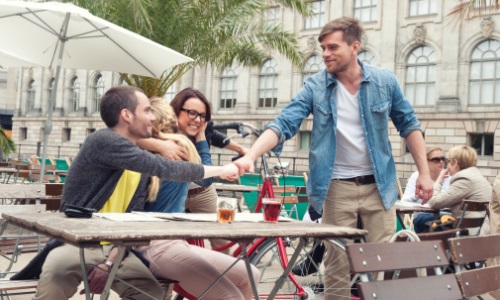 Photo: Thinkstock
You've worked hard, submitted your college application and been accepted into colleges and universities, but are you ready to pursue your degree? If you're not sure, consider taking some time off. Known as a gap-year option, this is when prospective college-bound students defer for a semester or a year before attending college.
Taking time off from school allows students to recharge their batteries, learn new skills or figure out their future academic or career goals before diving into another major education program. The gap-year option is very popular in Europe and is catching on with colleges and universities in the US as well.
Discuss the benefits of a gap year with your parents to alleviate any fears about your not attending college right away.
If the idea of the gap-year option appeals to you, you'll need to discuss it with your family and the admissions office of your future university. Most students find college admissions officers will agree to this type of deferment as long as they put down a tuition deposit to hold their position as a student.
How will you spend your gap year? Look at this year as the opportunity for a fun and valuable learning experience. Here are some common gap-year options:
Travel: There is a lot of appeal to seeing the world, and that concept comes with a whole range of possibilities. You can travel with a friend and discover affordable ways for students to get around various countries. You could also take a practical approach and select places of interest that will relate back to possible degrees or careers you plan on pursing when you return to college. For instance, students interested in art could consider a tour of the museums of Paris and Florence. Students who want to major in a specific language can move to the country that speaks that language to immerse themselves in the culture.
Internship: Taking an internship before college will give you valuable real-world experience to bring into your education. It will also give you into the types of careers you may want to pursue into post-graduation and could give you contacts with future employers.
Community Service: There are many great programs, such as the Peace Corps, where you can volunteer your talents for the year. Not only will you be gathering experiences to enrich your life, but you might discover a new direction for your studies, career or degree program goals.
Work: Getting a job will help defray the costs of your college education, while giving you valuable work experience. This is especially cost-effective if you're still living at home and can keep your living expenses to a minimum.
College Prep: You could also use a gap year to take some courses at a local community college to get through some basic course requirements. These courses can help you choose between majors you're interested in, and if you can transfer the credits to your university, you can move ahead more quickly in your major.
Reapplying: Students who didn't apply to college, didn't get in to college, didn't find the college of their dreams or didn't get in to any colleges they were interested in can take the gap year to work or study to improve their application and then start a new college search and reapply for in January or the following fall. A well-spent gap year (or gap semester) can make your college application stand out or turn into an effective college essay.
Tips & Tactics
During your college search, note which colleges and universities allow for gap-year deferment, so you'll know if you have the option if you get in to those schools.
Discuss the benefits of a gap year with your parents to alleviate any fears about your not attending college right away. When you present the idea to your parents, have a plan in place for how you'll spend your time and a budget for how you'll spend and make money.
Make your gap-year decision before May 1 in order to send your deposit and hold your spot as a student.
Not sure you'll be able to take a gap year? Consider taking a semester abroad your junior year instead.
People Who Read This Article Also Read:
Transfer Basics
Online Colleges: When You Need Flexibility
Certificate Programs: Get A Jump Start on Your Career
Study Abroad: How to Survive College in a Different Country

Advertisement
Visit Our Student Center

Get on track!
And find out everything you need to know about planning for college.
Advertisement