MBA: Is It For Me?
Discover the qualities that make the best MBA candidate.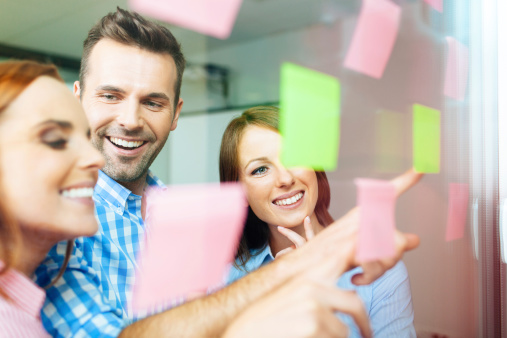 Photo: ThinkStock
By Merrissa Saunders
Getting a master's of business administration (MBA) is a sound business choice for a variety of people. Most MBA students are in their mid-to-late 20's, or older. MBA universities usually see this as an acceptable age for being able to have a focused career plan.
Most schools offering MBA degrees prefer to enroll students who already have some real world experience. These students have a better idea of what they want to do in business and are able to reap the benefits of all that the MBA has to offer. Just like any other master's degree program, the classes are heavily based in discussion and sharing of projects and ideas. Those who already have business experience are better able to contribute useful information to their peers.
Don't worry if you plan on going directly from your undergraduate school to seek an MBA degree. If you have a solid reason to want to earn your MBA, have completed a large amount of business related coursework, or have had an internship or temporary work experience, you still have a good chance of being admitted into a MBA program.
You may earn a MBA online or on-campus. Getting an MBA online allows you to continue working in your current job. Employers might be more apt to help pay for an online MBA because it will interfere with your work less often.
Applying to a MBA Program
Applying to a MBA program can help you advance in your career or switch careers entirely. In order to get into most MBA programs, students have to submit their college transcripts, letters of recommendation, personal statement and take the GMAT.
The GMAT and GRE are similar in that they are both standardized tests that allow students to attend graduate school. This is an important aspect to your graduate school application, so students should prepare for the GMAT months in advance.
Some students choose to earn their MBA online. Online MBA programs are great for working professionals and parents who do not have the time to attend a full-time or part-time classes on-campus. Applying to an online MBA school is typically the same as applying to an on-campus course. However, there might be fewer admissions requirements.
Perfect MBA Candidates
People choose to pursue an MBA or a master's degree with a specialization in business for many reasons. There are specific occupations where an MBA is known to be useful towards your career and there are many types of MBA programs to fit these needs. For those people already working in business, the MBA can get you on the fast track to earning a promotion to a higher level of responsibility and an increased salary.
If you are just starting out your career and want to give yourself a leg up to your competition, complete a MBA program with a specialization in something like information systems. As computers, the Internet and other technology continue to become an important part of the business sector, having leadership that understands the technology is crucial.
In the same vein, those already working as a computer software engineer, especially in the start-up world, should pursue an MBA if they are technically proficient, but having problems with the business aspect. A background in business helps computer engineers think about the users' experience and what they demand in the market, as well as distribution.
Human resources employees are increasingly consulting with top executives, helping them devise a business plan on how to manage workers more efficiently. In order to fill this role, human resources workers need to have experience in business. To be promoted to a top management position, a human resources employee is strongly encouraged to have a MBA in human resources management.
Those who desire to work as a marketing manager can use an MBA in marketing to devise better marketing techniques. A financial analyst can move up to a financial manager if they earn an MBA in finance, which involves keeping tabs on the developing financial markets. In addition, attending an MBA program is perfect for those interested in working for the government because it helps students understand how to put thought into action.
Those working in non-profits or who own their own business are strongly recommended to earn an MBA in organization management to learn how to best use the profits. In fact, people who start their own business with an MBA have a 50 percent lower business failure rate than those who do not.
MBA Education
The basic concepts taught in a MBA program are:
Business strategizing
Setting and reaching business goals
Adding extra value to services offered
Strong presentation skills
Effective communication with business colleagues
Problem solving business issues
Better employee management skills
MBA and Networking
Beyond what you learn in the classrooms, MBA universities are filled with networking opportunities. The top MBA programs accept between 200 and 900 student per year, which is that many more contacts that you wouldn't have met had you not decided to go to graduate school. Just like in any other community, you can form life lasting bonds that often spill over into your business life. For example, if you are earning your MBA in order to learn how to start your own business, you might meet the next big entrepreneur who loves your idea and is willing to invest, or a marketer to help you promote your products.
Another great way to network and get your ideas shown, while pursuing your MBA is to enter a business plan competition. The perks if you win include gaining notoriety, a press release, a sizeable check and best of all, you may attract potential investors or even a new partner. Even if you don't win, you still receive valuable feedback from judges.
People Who Read This Article Also Read:
Types of MBA Programs
Top 10 Tips on Applying to an MBA Program
Should I Earn a Masters Degree or an MBA?
Is an Online MBA for me?
Top 10 Online MBA Schools
How Hard Are MBA Programs?

Advertisement
Visit Our Student Center

Get on track!
And find out everything you need to know about planning for college.
Advertisement