See All
Colleges >
Jobs and Internships: What's On Your Resume?
Jobs and Internships: What's On Your Resume?
Jobs and internships are a great way to learn new skills and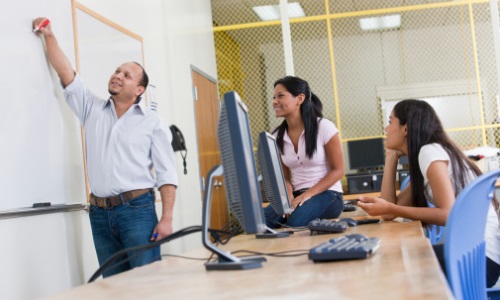 Photo: Thinkstock
Do you know which part of college applications many students most commonly overlook?
Work Experience.
Highlighting jobs you've had while in high school is an excellent way to stand out on your college applications.
Whether you simply list your employment history or use it as a deeper part of your application, such as in your essay, the diversity and real-world experience that comes from working can be an asset to any college applicant.
Having a job during high school is a great way to show college admissions boards that you're ready for the demands of college.
Do Colleges Appreciate Work History?
Colleges are looking for students with good work ethic who can also handle multiple projects and succeed not only academically, but outside of the classroom as well. Ultimately, they are looking for students that will prosper in the real world: students that will be able to get jobs and be able to handle the stress and demands of life post-college.
Having a job during high school is a great way to show college admissions boards that you're ready for the demands of college and that you know how to navigate various skills outside of the classroom. Consider all of the different options that high school students have in searching for a job.
When Should I Work?
It's important that jobs for high school students don't hurt your academics. School is the number one priority, but if you feel like you can manage going to school and having a job — then dedicate a few hours per week to an internship or full-paying gig.
That being said, a lot of students find it best to have a summer job – when you don't have to worry about schoolwork. This can be a great way to have the best of both worlds: You get plenty of time to study during the school year and plenty of money for the summer.
Internships
High school student internships are another excellent way to make your college application shine. Think about some possible careers that sound interesting, or just pick a place that might be fun to work. After you choose a few businesses, call and ask if they accept interns. A lot of times, companies will accept student interns and offer school credit as compensation.
You'll also get a chance to work in a field that most students wouldn't be able to land without the required qualifications that most high school students may not have. Some internships are even paid, offering the best of both worlds. Still, unpaid internships at large, well-known companies can be worth their weight in gold with the connections you will make and the experience you can gain.
Where Can I Find an Internship?
Speak to your teachers or school counselors about internship opportunities. Schools often have close connections with many local and national businesses and will be able to point you in the right direction.
You can also search online for internships. Websites like CareerBuilder.com have job searches where you can limit your search results to internships only.
People Who Read This Article Also Read:
Summer Vacations and College Admissions
Volunteering, Community Service and College Admissions
Learn About Careers: Job Shadow Programs

Related Timeline Articles
Advertisement
Visit Our Student Center

Get on track!
And find out everything you need to know about planning for college.
Advertisement