See All
Colleges >
Moving On To An Associate's or Bachelor's Degree
Moving On To An Associate's or Bachelor's Degree
Find out how you can earn a degree after completing your certificate program.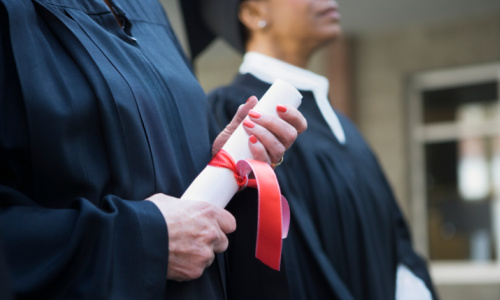 Photo: Thinkstock
Your education does not have to end after you earn your certificate.
Many students who have earned their certificate go on to obtain an associate's degree or bachelor's degree.
If you are looking for a certificate program that could lead to an associate's degree or bachelor's degree in the future, you'll want to plan ahead.
A certificate provides students with specialized and practical hands-on training and can lead to employment in an entry-level position in your field. A degree provides students with theory and general education skills.
It is common for students to pursue their associate's or bachelor's degree while they are employed in their new job. In fact, there are many companies that offer tuition assistance to emploees, especially if there is a continued education policy.
Continued education may be required to earn a promotion or get a pay raise.
How to Choose a Certificate Program for Transfer
If you are looking for a certificate program that could lead to an associate's degree or bachelor's degree in the future, you'll want to plan ahead.
The most important thing you must do is to find a program that offers college credit for the courses you complete. Some certificate programs offer courses with credits transferable to a degree program.
Contact the career college or community college to find out if the credits you earn through your certificate program can be transferred to a degree program.
More often than not, if you attend a certificate program at a college that offers associate or bachelor's degree programs, the credit you earn in your certificate program with be transferable to the degree program.
Common Certificate Programs That Lead to a Degree
Graduates of a technician certificate program usually go on to earn their degree in the same field. Typically, technicians assist engineers and other mechanics, so naturally the next step in this career is to attend a bachelor's degree program for engineering.
Those working in information technology have the best chances for a high-paying, flexible job if they earn their associate's or bachelor's degree after earning their certificate. Although a certificate program can provide the technical skills needed for this career, the deeper theory that is taught in an IT degree program is valuable in problem-solving and for management for those who are further on in their careers.
Nurses often move up the ladder through earning degrees and more certification. A nurse can earn a licensed practical nursing certificate to earn the most basic, entry-level positions. However, in order to earn a promotion, nurses must move on to either receive their associate's degree in nursing (ASN) or their bachelor's degree in nursing (BSN).
Some students are provided with the option to work towards a certificate and degree at the same time. For example, someone who wants to break into the field of education may pursue their bachelor's degree in general education, while simultaneously getting their early childhood education certificate.


People Who Read This Article Also Read:
What Are Certificate Programs?
Types of Certificate Programs
Online Certificate Programs
What Types of Schools Offer Certificate Programs?
Paying for Your Certificate Program
20 In Demand Certificates
Earning More Than One Certificate
Career Prospects with a Certificate

Quick Search: Find the College that's Right for You!
Advertisement
Visit Our Student Center

Get on track!
And find out everything you need to know about planning for college.
Advertisement