See All
Colleges >
College Towns: Burlington, Vermont
College Towns: Burlington, Vermont
Learn more about Burlington, Vermont – home of the University of Vermont.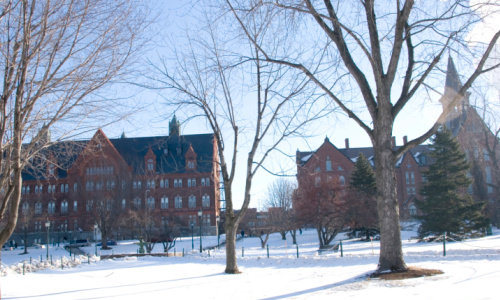 Photo: Thinkstock
The Town: Burlington, Vermont
The largest city in the state of Vermont, Burlington was settled on Lake Champlain amid the Green Mountains to the east and the Adirondack Mountains to the west. Home to several colleges including the University of Vermont, Burlington College and Champlain College, the city enjoys weather typical of New England: four distinct seasons highlighted by beautiful springs and autumns, snowy winters and warm summers.
The University of Vermont is the fifth-oldest college in New England.
Established in 1791, the University of Vermont is the fifth-oldest college in New England and the premier public university in the state. About 10,000 undergraduate and 1,500 graduate students call Burlington their home.
UVM boasts some of the smartest student-athletes in the country. For five straight years, the Catamounts have won the American East Academic Cup for the best GPA in the conference. In 2009, the men's hockey team celebrated a trip to the Frozen Four.
The school's most famous alumni includes the band Phish, who formed in 1983 on campus.
What to Do
With a lake and two mountain ranges coupled with the variety of weather throughout the year, students can enjoy nearly any kind of outdoor activity. Biking, hiking and boating are all popular, and there are numerous mountains throughout the state, allowing skiing and snowboarding.
Every April, UVM hosts SpringFest, a music festival that brings in some of the most talented and popular artists from around the world. Past headliners have included The Roots, MSTRKRFT and Ziggy Marley.
If you're going to be around in the summer, make sure you check out the Festival of Fools, a street theater celebration held every August downtown.
Where to Eat and Drink
For some of the tastiest and healthiest meals you can get on campus, go to Brennan's, which uses only local, organic foods on its menu. There's also a microbrew, so stop in for a drink after you've finished class for the day.
And of course, any time spent in Vermont would be incomplete without enjoying Ben and Jerry's ice cream, a staple of the state. Enjoy a cone (or a pint) of their deliciously wacky concoctions, such as Chunky Monkey, Ginger Snap and Dublin Mudslide.
Did You Know?
UVM is one of the leaders in sustainability on college campuses. All copy paper used on campus is made from 100 percent recycled material.


People Who Read This Article Also Read:
The Top 40 College Towns in the US
College Towns: Fayetteville, Arkansas
College Towns: Oxford, Mississippi
College Towns: Tucson, Arizona
College Towns: Tuscaloosa, Alabama
College Towns: Cambridge, Massachusetts
College Towns: College Station, Texas
College Towns: Chapel Hill, North Carolina

Advertisement
Visit Our Student Center

Get on track!
And find out everything you need to know about planning for college.
Advertisement