See All
Colleges >
6 Tips for Dealing With Tough Professors
6 Tips for Dealing With Tough Professors
Take these smart steps in order to survive a cantankerous professor.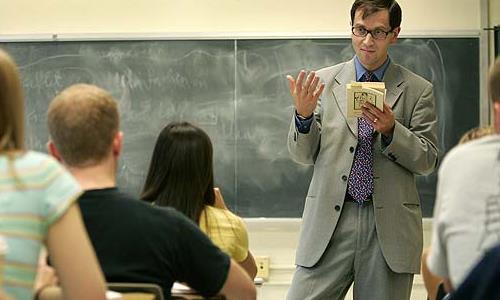 Photo: Thinkstock
Tough professors can sour the classroom experience of an otherwise interesting and enjoyable course. However, with a little effort, you can improve the situation. Take these six steps in order to deal with your challenging professor in a positive manner.
In order to be a successful college student, you'll have to take on challenging courses and deal with the demanding professors that teach them.
1. Adjust your expectations.
In order to be a successful college student, you'll have to take on challenging courses and deal with the demanding professors that teach them. To prepare for the years ahead, try to get comfortable with the fact that teachers will expect a lot of you. Before you decide that your professor is too tough, examine whether you're being overly sensitive or feeling overwhelmed by your challenging new environment. If so, view this class as an opportunity to adjust to college-level coursework. Remember, you can always seek out tutoring options or extra help from your teaching assistant.
2. Be patient and open-minded.
If it's still the beginning of the semester, give your teacher some time to open up and ease into things. Some professors come down hard in the first few weeks in order to command respect from students; however, once they hit a stride, they often ease up. Give your stern teacher the benefit of the doubt -- after all, you may want him or her to do the same for you later on in the semester.
3. Take advantage of office hours.
Attend your professor's office hours with a thoughtfully prepared question or discussion point. This will show that you're interested in the material and that you want to do well. If you make a habit of stopping in, your professor will most likely warm up to you, making for a much easier and smoother classroom experience.
4. Show your professor that you're a great student.
No matter how much your teacher frustrates you, resist the temptation to react by slacking off. Instead, put a positive spin on the situation by viewing it as an interesting challenge that forces you to perform well. Show up on time, take thorough notes, participate in class discussions and keep up with homework and studying. This proactive approach will show your teacher that you deserve respect and positive attention.
5. Seek help from your advisor.
If you're still having trouble dealing with your professor, schedule an appointment with your academic advisor. Your advisor has probably seen students suffer through similar situations, so he or she can suggest some approaches that might work for you. Your advisor may even know your professor and have some insider knowledge that can help you make a positive change.
6. If all else fails, consider dropping the class.
If none of these approaches works to improve the situation, consider dropping the class. Schedule an appointment with your college registrar in order to review your options. If another professor is offering the same course, you may be able to simply switch sections. Otherwise, consider choosing an entirely different class (assuming the one you're enrolled in isn't required for your major). Before you commit to enrolling in a new course, use a website like Rate My Professors to read student reviews of teachers at your school -- this way, you'll be able to avoid a too-tough professor the second time around.
People Who Read This Article Also Read:
How to Evaluate a Professor
5 Ways to Force Your Professor to Like You
Problems with Professors: How to Handle Grading Disputes
4 Ways to Make the Most of Your Professor's Office Hours

Advertisement
Visit Our Student Center

Get on track!
And find out everything you need to know about planning for college.
Advertisement