See All
Colleges >
How to Improve Your SAT and ACT Scores
How to Improve Your SAT and ACT Scores
Top tips for studying, preparation and taking these standardized tests.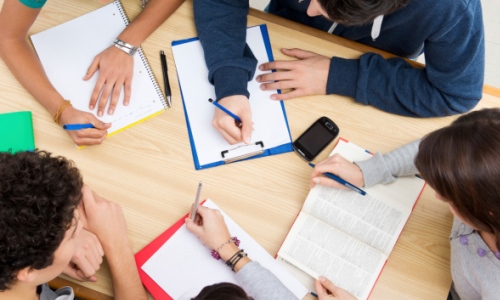 Photo: Thinkstock
One of the important factors determining your admissions status at colleges and universities is your scores on either the ACT or SAT. Note: Most 4-year colleges and universities will require scores from at least one of these standardized tests, although a community college, career college or distance or online school, may not. Contact each school you're applying to in order to find out which test, if any, is required.
While students have their entire high school careers to build up an impressive transcript and grade point average (GPA), take advanced courses and engage in extracurricular activities, you only have a few shots to get your standardized tests right. The SAT or ACT consists of a single score that must convey to the admissions committee that you can complete and even excel in their college program.
While students have their entire high school careers to build up an impressive transcript and grade point average (GPA), take advanced courses and engage in extracurricular activities, you only have a few shots to get your standardized tests right.
If you weren't happy with your initial scores, or if you haven't yet taken one of these tests, here are some study tips and test-taking tips to help you get the best score possible.
Studying for the ACT and SAT
1. Establish a Baseline
Before you start studying, take some practice tests. These tests are generally taken from previous versions of the tests, so you'll know what you can expect on the real thing once you've taken a few.
You can find free sample questions for both the ACT and SAT on the websites that administer the tests. Take one or two right away and score them. That should give you an idea of what you could expect to score if you took the test tomorrow. As you compare your scores to average scores at the schools you're applying to, you may find that you're in good shape, or that you have major work to do.
2. Focus on Areas of Weakness
Areas of difficulty on these tests are often clustered; that is to say you may find you have weaknesses in particular sections and strengths in others. Focus your studying on those areas of weakness, while not completely neglecting the other areas.
In addition, try to establish why you struggle in certain areas. If your vocabulary skills are lacking, talk to your English teacher for advice. If math is your weakness, ask your math teacher what you can do.
If time is an issue (and you should be timing your practice tests), you need to learn and practice some time-saving test techniques, like completing the easier questions first, making harder questions easier through process of elimination and plugging the possible answers into the question to help you solve it.
3. Practice
As you keep studying, take practice tests regularly and record your scores to see where you're improving and where you're not. If you're not showing marked improvement in certain areas, you may want to reconsider your study techniques or find a tutor.
Tips for Taking the ACT and SAT
Taking the ACT
General Tips
Skip the last-minute studying. You don't want to enter the test situation frazzled and anxious. Take the night off before the test, relax, and get a good night's sleep.
Read everything carefully. That includes all instructions, directions and questions. One missed word or instruction could result in an incorrect answer when it doesn't need to.
Answer easy questions first, and then go back to the hard ones. You don't want to run out of time before getting to questions you know the answer to.
Answer all questions, and guess if you aren't sure. Unlike the SAT, there is no penalty for guessing on the ACT.
Subject Tips
English: Read the sentence quietly to yourself before proceeding. Often, the incorrect portion will simply "sound" wrong to you. Look for four basic grammar errors: subject-verb disagreement, pronoun errors, sentence structure issues and readability problems (incorrect idioms, wordiness, awkward phrasing). In the reading section, take notes as you read, attempting to locate the main ideas and the connections between the ideas. In the writing section, use standard essay format, with an introduction, three or four main body paragraphs with connected ideas, and a conclusion.
Math: Create diagrams if none exist to help you visualize the problem. The answers are absolute, so if one seems right but doesn't quite fit, either it's incorrect or there's a piece you aren't seeing. On the multiple-choice problems, try plugging in numbers from the answer choices into the variables in the question to solve it. Start with the answer choice that's in the middle of the others; if it's wrong you may be able to tell whether the right answer is greater or smaller.
Science: Preview, read and review (do this for the reading section as well). Look for relationships between variables and trends in data. Don't get caught up in the technical lingo.
Taking the SAT
General Tips
As mentioned in the ACT study tips, you should relax the night before the test, answer easy questions first, and read all directions, questions and instructions carefully.
You can use the test booklet as scratch paper to write notes or draw diagrams on. You should also use it to note which questions you have skipped and need to go back to.
You are penalized on the SAT for wrong guesses, at the rate of -1/4 point per incorrect guess (you lose -1/3 point for the quantitative section, but nothing is deducted for incorrect grid-in answers). Therefore, the more answer choices you can eliminate by process of elimination, the more reason you have to guess on that question.
Subject Tips
Reading: When you're asked to complete a sentence, look at each answer and fill them in to see which ones make the most sense. For reading comprehension questions, skim the passage to find the main ideas. The questions will often give clues about where in the passage to look for the answers, which can save you a lot of time.
Writing: Follow the ACT tips above for the essay portion. For multiple-choice questions, the clearest expression of an idea is usually correct.
Math: Follow the ACT tips above for multiple-choice problems. For grid-in questions, remember that you cannot have a negative answer, and that you can put your numbers in any of the boxes as long as they are in the right order. Also, be sure to guess if you don't know the answer to a grid-in question. Remember, you are not penalized for incorrect guesses on grid-ins.
ACT & SAT Tips & Tactics
Need study help? Find college test prep programs in your area. Well-regarded programs include:
Scores not improving? If you consistently have problems with long tests and other education-related tasks, you may have a condition, such as Attention Deficit Disorder, that will prevent you from scoring well and could impact your success at your university. If you think you may have a disorder like this one, talk to your doctor to be diagnosed. You may be able to take an un-timed test.
See how you're doing. While you're performing a Campus Explorer college search, note what the ACT and SAT scores are for each school you're interested in. If you find the college scores to be higher than yours, it doesn't necessarily mean you won't get in if your scores are lower than the average, but it does offer a guideline of how selective the college or university is with regards to standardized tests.
Don't forget about the SAT IIs, the subject-specific tests you can take on the same date as your SAT test. Again, during your college search, find out from each school you're applying to how highly they value these tests. The amount of importance schools place on these tests varies by school, and it can even vary depending on the college majors and degrees you're pursuing.
People Who Read This Article Also Read:
10 SAT Test Day Tips
Sample SAT Questions and Strategies By Section
SAT Strategies
SAT Test Prep Courses: What Will They Do For Your Score?

Advertisement
Visit Our Student Center

Get on track!
And find out everything you need to know about planning for college.
Advertisement