See All
Colleges >
In Demand Creative Jobs
In Demand Creative Jobs
Explore the best creative careers including graphic design, writing, and fashion jobs.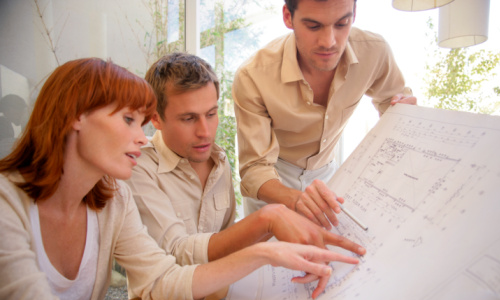 Photo: Thinkstock
By Adam Jazairi
Following your dream doesn't mean you have to end up like the archetypal "starving artist." Creative jobs are everywhere, and many of them pay well and are in high demand.
Feel like you can't find the right creative jobs for your interest? No problem. We've sifted through pages of Bureau of Labor Statistics data and have come up with this list which will give you a good idea of where to start looking for in demand jobs in creative fields.
What They Do: From hairstyling to nail care, cosmetologists help people look and feel beautiful.
Salary: Though the median salary is about $22,000, positions at more prestigious salons tend to pay higher.
Demand: Cosmetologists are one of the most consistently in demand jobs. Even during a recession, people want to look their best.
Prerequisites: To become a cosmetologist, you must complete a vocational training program and pass the board exam for your state. Most programs take a little over a year of full-time study to complete.
What They Do: Graphic designers are an important part of a business's creative firepower. They create logos and product designs that are sleek and appealing to consumers.
Salary: On average, graphic designers make around $45,000 annually.
Demand: Entry-level graphic designers are among the most in demand creative jobs, but higher level positions are more competitive.
Prerequisites: Typically, a BFA in design is a good place to start. The strength of your portfolio is the main factor for most creative jobs.
What They Do: Architects design the houses we live in, the offices we work in, and even the structures we park in.
Salary: In 2010, the average architect made approximately $72,000 per year.
Demand: As a result of increased interested in "greening" various buildings, architects are expected to be in high demand over the course of the next decade.
Prerequisites: Becoming an architect is somewhat more difficult than other creative jobs on this list. In addition to a five-year professional degree, you must participate in an internship and pass the Architect Registration exam.
What They Do: Combining form and function, interior designers help make buildings great places to live, work, eat, shop and more.
Salary: The average annual salary for interior designers is around $46,000.
Demand: Similar to architects, interior designers will be in high demand as people try to make their homes and businesses more environmentally friendly.
Prerequisites: Like many creative jobs, a bachelor's degree in the field is required to become an interior designer.
What They Do: Photographers capture moments in time for artistic or documentary purposes. They make visual records of everything from weddings to natural disasters.
Salary: The median annual salary for photographers is around $29,000, but this can vary significantly depending on the type of work you do.
Demand: Due to our culture's visual orientation, photographers are in relatively high demand among creative jobs. However, it's important to note that most photography work is freelance.
Prerequisites: Strong creative and technical skills are essential. Though no formal training is required, most photographers earn a BFA to help hone their abilities.
Advertisement
Visit Our Student Center

Get on track!
And find out everything you need to know about planning for college.
Advertisement