See All
Colleges >
Technology in College
Technology in College
Learn more about technology in the college classroom and all around campus.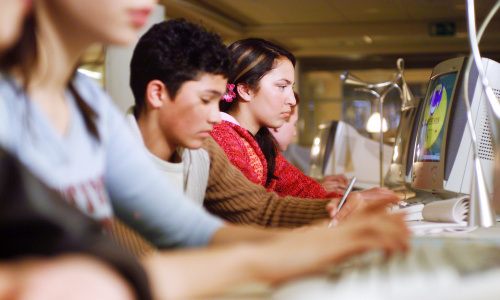 Photo: Thinkstock
Gone are the days of overhead projectors and film slide shows.
Today the average college classroom today is equipped with modern technology: computers, wireless Internet and digital projectors. College professors use multimedia presentations, transforming traditional pedagogy. There is no standard rule for what technology ends up in the classroom or how it is used, so the institution is allowed to choose.
It's projected that more colleges will use various recording devices to make lectures more accessible to students.
College Classrooms: Media Centers
Most four-year colleges and universities have media rental centers and/or classrooms equipped with multimedia hardware and software.
In fact, many colleges boast about their technological status. Carroll College touts that 99% of its classrooms use AV technology including ceiling mounted projectors, DVD/VCR combo decks, sound systems, desktop computers and Doc cams.
The types of technology you'll likely run into in college include:
DVD players
Computers
Digital cameras
Digital tape recorders
Digital projectors
Video cameras
Video/data projectors
Community colleges and two-year colleges also use technology in the classroom, but it may be to a lesser extent.
Many lectures have gone viral, and are available for students to download to help with notes and exam reviews. Classrooms at Hillsdale College in Michigan have several different ways of recording class lectures and use the SMART Board, a digital interactive white board.
Some majors require students to use specific software and will make that software available in computer labs across the campus. Engineering students use spreadsheets and graphics software to complete their projects and fine arts majors use graphics software, audio, video and film to complete their projects.
Abilene Christian University in Texas gives each freshmen a new IPhone or IPod Touch. Professors at the school are encouraged to incorporate these technologies into their curriculum. For example, a drama teacher might record a video of the lead dancer in a production and send it to students for rehearsal.
The Future of Classroom Technology
It's projected that more colleges will use various recording devices to make lectures more accessible to students. And resources that make the classroom more interactive are expected to replace or enhance presentation methods that students deem "boring," like PowerPoint presentations.
One up and coming movement in California is Open Source Textbooks, which advocates providing textbook access to students digitally, printable or in the more traditional format. This idea was based on the fact that the average college student spends $900 per year on new textbooks. Using open source textbooks allows students to save $716.


People Who Read This Article Also Read:
The Laptop Debate: Computers in the College Classroom
What Does a Typical College Class Schedule Look Like?
How Are College Classes Structured?
The College Dean's List
Prestigious College Scholarships: The Fulbright, Truman, Marshall, and Rhodes Scholarships
Taking Notes in College
Renting, Buying, and Selling Your College Textbooks
College Tutoring

Advertisement
Visit Our Student Center

Get on track!
And find out everything you need to know about planning for college.
Advertisement