College Newspapers
Student newspapers outline more than just campus news. Find out what university newspapers can do for you and the campus community.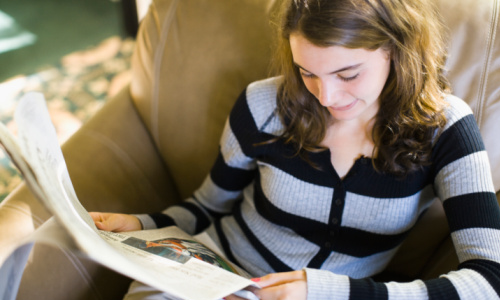 Photo: Thinkstock
It's important to stay informed, and reading a newspaper is a great way to do that. College newspapers offer the opportunity for students to sharpen their skills and gain professional experience.
Running the College Newspaper
Many jobs are involved in keeping college newspapers running. Journalism and English students are specially qualified to get involved in writing the college newspaper. Students interested in editing, publishing, advertising, or business could all find jobs that provide training and look great on a resume.
Regardless of where you go to college, if you are excited about journalism or simply looking for an interesting class at school, consider working at your college newspaper.
Journalists are at the heart of college newspapers. You need reporters to gather information and write the stories people read. But a paper also has editors for each section, general editors and copy editors who check for various kinds of mistakes. A newspaper also needs people to sell advertising space and others to keep the website running.
College Newspapers in a Digital World
The Internet has changed student newspapers. Many student newspapers have an online presence with commentary and Internet-related stories. Because of the immediacy of news on the Internet, a good student newspaper must take steps to differentiate itself from its competitors. This typically involves stories specific to the college and community as well as opinion pieces.
How to Work for Your College Newspaper
Working on your college newspaper is typically part of a class that the college offers but it might sometimes be a club. Santa Monica College, for example, has individual classes for producing the campus newspaper, editing the newspaper, and writing articles.
In addition to that, the newspaper might also offer a certain number of paid positions. These can be reserved for students or may be given to alumni. Or they may go to an outside hire in order to give students a chance to work closely with professionals. Using outside professionals also adds an extra level of credibility to the newspaper, which gives students the benefits of better experience, references, resources and a boost to their resumes.
Best College Newspapers
In 2010, Princeton Review listed the top three college newspapers as the Yale Daily News, The Daily Tarheel at the University of North Carolina, Chapel Hill, and The Diamondback at the University of Maryland.
Regardless of where you go to college, if you are excited about journalism or simply looking for an interesting class at school, consider working at your college newspaper.
College Newspapers: Tips and Tactics
If you're seeking to join the paper as a journalist, hang on to any journalistic writing you did in high school. You may be asked to provide "clips" of your writing.
This one sounds obvious: Read the school paper. If you're trying to get involved with the paper and you end up talking to someone who works there, you'll want to be up on the latest coverage. Does the paper take sides on any issues? Have there been any recent controversies or issues surrounding the paper? You should know.
Don't forget sports, the arts and the city desk. All student newspapers need a variety of coverage – including that of the surrounding city or town. Specialize in one of these and you might have a leg up on getting your name in print.
Keep up with mainstream journalism: While the Web has changed the face of journalism, big names such as The New York Times, The Washington Post and The Wall Street Journal all still carry some weight. If you're serious, you'll read at least two of these papers daily.
People Who Read This Article Also Read:
Student Organizations: An Overview
College Clubs for Filmmakers and Movie Buffs
Men's and Women's Clubs in College
Environmental Groups on Campus
Student Religion: Religious Groups on Campus
The College Academic Calendar
Rights Organizations on Campus
How To Start Your Own Student Organization

Advertisement
Visit Our Student Center

Get on track!
And find out everything you need to know about planning for college.
Advertisement