See All
Colleges >
How to Cope with Soy Allergies in College
How to Cope with Soy Allergies in College
Follow these tips to avoid allergic reactions to soy products while in college.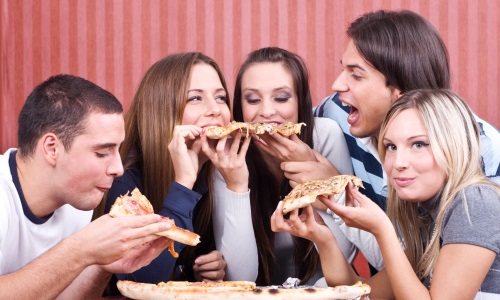 Photo: Thinkstock
While today's college life certainly differs from the golden years of your parents or relatives, there are certain things that remain a staple: Late nights spent studying, impromptu costume-themed parties, and a pantry stuffed with ramen noodles, cheap snacks and packaged desserts.
But for a student who is dealing with soy allergies, the food portion of that common experience is vastly different. Especially, researchers say, because soy is an affordable ingredient that companies regularly add to their products.
The problem is that "soy" goes by a range of names, a problem that can be avoided by closely reading labels.
Soy is hidden in many products.
"Because it's the third most subsidized farm commodity in the US, soy is a low cost, versatile food ingredient with functional and nutritional properties that can be substituted for or used in other food products to make them heartier or enhance their value," said Tracy Stuckrath, President and Chief Connecting Officer at Thrive! Meetings & Events, a boutique event marketing company that educates the hospitality industry on how to accommodate different dietary needs.
"From improving texture and reducing crumbling in baked goods to enhancing nutritional value of pastas, cereals and dairy-type products ... soy protein has become a go-to food ingredient across a range of food products," she explained.
Soy is a common allergen.
[According to the Asthma and Allergy Foundation of America (AAFA), soy is one of the most common foods that cause allergic reactions. Soy milk, flour, grits, meal, sauce and oil are just a few of the soy-based food additives that can cause a host of symptoms for those who are allergic, including eczema, hives, asthma, digestive symptoms and anaphylactic shock.
The problem, experts say, is that soy is an inexpensive filler that is common to many packaged foods and prepared foods, such as peanut butter, chewing gum, canned tuna, baked goods, and a range of meat, poultry and fish products. Body lotion, shampoo, soap, printer ink and certain medications are also a few common products that often contain soy additives. And "soy" goes by a range of names, a problem that can be avoided by closely reading labels.
The AAFA lists the following as ingredient terms that might imply soy is present in a food:
Glycine max
Hydrolyzed vegetable protein (HVP)
Lecithin
Miso
Mono-diglyceride
Monosodium glutamate (MSG)
Natto
Tempeh
Tofu
Vegetable oil
Vitamin E (contains soybean oil)
"This is a particularly difficult allergy, and it can take over a person's life in ways that many would never understand," said Mireille Schwartz, founder and chief executive officer of the Bay Area Allergy Advisory Board. "Finding the balance between remaining vigilant yet enjoying your college life takes practice with your medical condition. Your life depends on a food allergy action plan, yes, but your life also depends on the quality and enjoyment of this time."
Eat less processed foods to avoid hidden soy ingredients.
Schwartz and other experts say the college life with soy allergies can be made easier by choosing whole, unprocessed foods when putting together a meal. Take advantage of your school cafeteria's salad bar or request a baked potato with soy-free toppings. Always stow snacks, like pre-cut veggies, fresh fruit or soy-free snack bars, in a purse or book bag to avoid food emergencies.
A general rule of thumb is to avoid processed foods, but a simple call to a manufacturer or visit to a company's website can help better identify the ingredients in particular products. Keeping a list on hand of the various names for soy will also help avoid label confusion.
Most of all, Schwartz said, try not to let soy allergies get in the way of a fun, healthy college experience:
"Count your food allergy successes as you go so you feel a background 'buzz' of happiness," she said. "That helps motivate you to keep on keeping yourself healthy!"
Quick Tips
Avoid package, processed foods that might contain soy additives.
Keep a list on hand of the various names for soy in order to help avoid label confusion.
Stash soy-free snacks, like fresh fruit and allergy-friendly food bars in your school bag.
Quick Search: Find the College that's Right for You!
Advertisement
Visit Our Student Center

Get on track!
And find out everything you need to know about planning for college.
Advertisement