See All
Colleges >
Men's and Women's Clubs in College
Men's and Women's Clubs in College
Find out all about collegiate student organizations that cater to men and women specifically.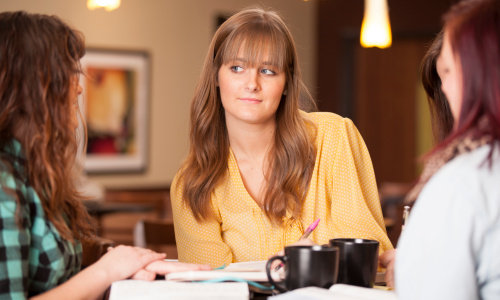 Photo: Thinkstock
While the vast majority of colleges – and many dorms – are coed these days, students still seem to find value in forming single-gender organizations on campus. These groups, which might seem anachronistic, serve an interesting function by bringing together like-minded people of the same gender.
Often in men's and women's clubs, club members form small interest groups, work on community service projects together, and often receive special benefits and access to scholarships or other rewards for being a part of the student organization.
Scholarships for women are a staple of women's clubs, so be sure to ask someone involved for more information about scholarships.
How to Join a Men's or Women's Club
Joining these clubs is generally a straightforward process. You can easily hunt down the clubs via your university's website, an associated students building, or any place where you can find a list of college student organizations. Students and faculty are generally allowed membership, and often other men or women in the community are welcome to join.
Admission is usually by application and involves a membership fee. At the University of Colorado, Boulder, women's club membership is $30 per year. At Ohio State University, the membership fee is $20 per year.
Membership Benefits
While some might be put off by membership fees, the benefits justify the cost. Men's clubs will often have scholarships available to members. Scholarships for women are a staple of women's clubs, so be sure to ask someone involved for more information about scholarships. Many clubs ask for donations from members as well, and they are usually tax-deductible.
Ask about any perks with local businesses or fun activities, opportunities and events put on by the club. Of course, you always have the benefit of meeting new people, and finding mentors who can help you throughout your college career.
Specific Interest Clubs
There are also frequently clubs open to one gender or the other that focus on career goals or specific interests. Typically there will be more women's clubs available, as the focus is on gender equality and female empowerment. Kansas University has an extensive list of these clubs: an association for women in mathematics, a women's business club, clubs for women engineers, women in law, women in design. These are all good ways for business and professional women to meet, network and learn.


People Who Read This Article Also Read:
Student Organizations: An Overview
College Clubs for Filmmakers and Movie Buffs
Student Government
Environmental Groups on Campus
Student Religion: Religious Groups on Campus
The College Academic Calendar
Academic Competitions for College Students
How To Start Your Own Student Organization

Advertisement
Visit Our Student Center

Get on track!
And find out everything you need to know about planning for college.
Advertisement