See All
Colleges >
How to Find a Job on Campus
How to Find a Job on Campus
Land a job that's ideally suited to college life by working on campus.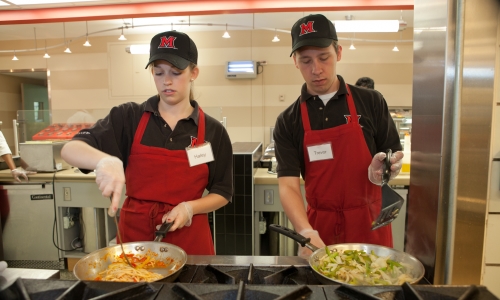 The benefits to working on your college campus are significant. Supervisors expect to work around your class schedule, you'll often get holidays and breaks off and you're conveniently close to your dorm, classrooms and other campus amenities. If you qualify for a work-study position, it can even help pay your tuition. But as an incoming freshman, you might wonder where to begin looking when you want to work on campus. Use this guide to land a great job on your college campus.
Many colleges have an online resource that helps students find open positions on campus.
Create a Stellar Resume
As an incoming freshman, you might not have much work experience. However, you can still create an impressive resume that will increase your chances of getting an on-campus job. The key is to highlight any experiences or skills you have that make you an attractive employee. Even students who have never held a job before can create a great resume using these tips:
Start off with a strong objective statement that explains what you are looking for in an on-campus job. If you submit a cover letter as well, you can elaborate on what you can bring to the table and what you hope to gain from the experience.
List your work experience. Include any skills you gained while on the job, whether it was tracking inventory, operating a cash register or working with children.
List any volunteer or non-work experiences that have helped you earn valuable skills and/or that demonstrate that you're a responsible, hard-working individual. This might include organizing a school event, volunteering at a local animal shelter or traveling on a mission trip with a youth group.
Include impressive academic information. Do you have a good GPA or class rank? You can include these in the education section of your resume.
Add any certifications or additional skills, such as CPR certification or your proficiency in certain computer programs or foreign languages.
Photo: Thinkstock
Use College Resources to Find Open Positions
Many colleges have an online resource that helps students find open positions on campus. Search your college's website or call the financial aid office to find out where you can find this information. You may be required to apply for these jobs through the school's online system. Make sure you note whether certain positions are only available to work-study students.
In addition to your school's online job postings, you can also inquire with current students or employees at the school about possible job openings. Maybe they are aware of an opening that hasn't been listed yet. Perhaps they'll tell you to check the school newspaper to find out about additional job opportunities. You may be able to find open positions that other students aren't aware of by making an effort to find out more about on-campus job opportunities.
Aim to Find a Suitable Position
An additional benefit for some on-campus jobs is that you could get valuable work experience in a field that interests you. Research positions, which are one of the most popular work-study jobs, let students learn more about a specific topic and often involve increased interaction with faculty members in their field. Meanwhile, aspiring teachers could land a tutoring job or daycare position. Those with an interest in computer science might want to shoot for a job in the computer lab or IT department. Think about how each position you apply for will look on your resume in a few years when you're applying for jobs after graduation.
Competition for on-campus jobs can be fierce, however, so it's important to keep an open mind, especially as an incoming freshman. You should apply to multiple jobs in order to increase your chances of being hired, even if that means you might not get a job that lines up perfectly with your interests or goals.
Prepare for Your Interview
Even students who make a huge effort to find a great on-campus job can still ruin their chances by not taking the interview seriously. On-campus employers often have tons of applicants to sift through, so you'll definitely want to make an impression at your interview. Here are a few essential interview tips to keep in mind:
Read about the most common interview questions and think about how you'll answer them.
Dress professionally, even if it's a very casual job where attire isn't important.
Learn as much as you can about the position and the department.
Think about what questions you'd like to ask the interviewer.
Practice with a friend or family member before your interview.
If you want to work on-campus, start looking for open positions as early as possible. If you're willing to put in some extra effort when it comes to creating a great resume, searching for open positions and preparing for your interview, you'll increase your chances of landing an on-campus job that meets your needs…and maybe even your interests.
People Who Read This Article Also Read:
What is Work Study?
Jobs and Internships: What's On Your Resume?
How to Get an Internship
How to Score a Paid Internship
Advertisement
Visit Our Student Center

Get on track!
And find out everything you need to know about planning for college.
Advertisement