See All
Colleges >
Best Colleges for People Who Love Snow
Best Colleges for People Who Love Snow
Check out these campuses for the best winter wonderland experience, ideal for those who love to ski, snowboard, sled or hike.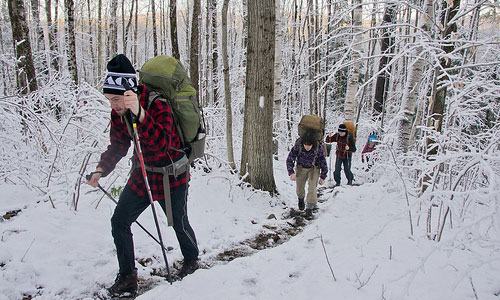 When you think about how you want to spend your free time in college, you may picture yourself joining a ski club or going snowboarding on the weekends. Or, maybe you simply want to wake up and see the campus covered in snow first thing in the morning. If you enjoy chilly climates, where you'll always have an excuse to sit by a fire and drink hot cocoa, one of these colleges might be just the perfect spot for you.
Sierra Nevada College
Location: Incline Village, Nevada
Average Snowfall: 138.96 inches

One benefit of touring snowy schools is the ability to turn the trip into a long weekend and hit the slopes!
Students at Sierra Nevada College have access to many outdoor adventures in the Lake Tahoe Basin. Home to over a dozen ski and snowboarding spots, Incline Village is a popular recreation area. Whether you want to practice with the ski team on Diamond Peak or participate in the school's annual snowman building competition, SNC has something for you.
Syracuse University
Location: Syracuse, New York
Average Snowfall: 93.52 inches

Students at Syracuse can enjoy the fact that Syracuse, NY is often called America's snowiest city. The town is ideal for skiing, snowshoeing and outdoor ice skating, and locals love to celebrate all things winter at the annual Winterfest. If you're worried about scurrying to class in the cold, don't be – the school recently added heated sidewalks on campus to keep their students comfortable.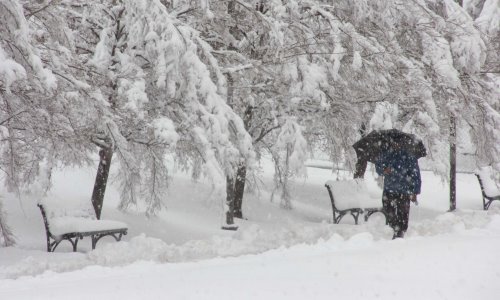 Dartmouth University
Location: Hanover, New Hampshire
Average Snowfall: 71.63 inches

Home to the longest running college winter festival in the country, Dartmouth's heavy annual snowfall makes for the perfect place for students to enjoy fun winter games and activities. At the Winter Carnival, you can race in a human dog sled competition, ski and create snow sculptures. And, since the Appalachian trail runs right through campus, students get a fresh dose of crisp air while hiking, mountain biking, or joining one of Dartmouth's outdoor groups .
University of Wyoming
Location: Laramie, Wyoming
Average Snowfall: 58.53 inches

The University of Wyoming sits between two mountain ranges, and the school's outdoor program takes full advantage of this by planning backpacking trips through the snowy mountains and maintaining a rental center where students can borrow skis, snowshoes and other winter equipment. If you'd rather enjoy the season from inside, many UW buildings offer gorgeous views of the surrounding landscape.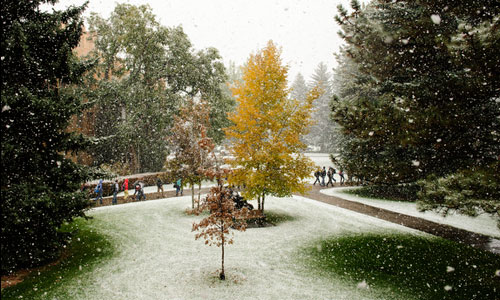 Williams College
Location: Williamstown, Massachusetts
Average Snowfall: 53.28 inches

Surprisingly, more than half of Williams College students come from places without a ton of snow, but that doesn't stop them taking part in local winter activities. In fact, the Williams Outing Club offers several options to help students become acclimated to the campus and the weather. Students can hike as the sun comes up or take a polar bear swim. Williams also throws big events like Mountain Day and the Winter Carnival and special outings for freshman. At this campus, the snowy environment encourages students to become part of the community.
University of Montana
Location: Missoula, Montana
Average Snowfall: 37.04 inches

At the University of Montana, students have the opportunity to take skiing seriously. If you're looking for a challenge on the slopes, join other students for downhill or cross-country skiing, or some snowmobiling near campus. Students who stick around for winter session have an extra leg up in enjoying the town at its snowiest.
University of Colorado-Boulder
Location: Boulder, Colorado
Average Snowfall: 81.08 inches

The University of Colorado's campus in Boulder includes 43,000 acres of open space. Whether you like to ski, snowboard, or simply make snow angels, this is a college to consider. Boulder averages 83 inches of snow each year and over 300 sunny days. The city's 80 miles of pedestrian trails make this an ideal place to stroll in the snow.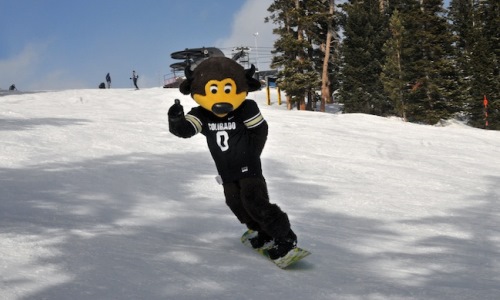 If attending college in a snowy city intrigues you, consider visiting one or more of these college campuses in order to get a real feel for them. You can even turn the trip into a long weekend and hit the slopes!
People Who Read This Article Also Read:
Best Colleges for Skiing and Snowboarding
7 Colleges Where You Can Build a Snowman
4 Colleges With Cool Holiday Traditions
6 Most Festive College Campuses
Advertisement
Visit Our Student Center

Get on track!
And find out everything you need to know about planning for college.
Advertisement