See All
Colleges >
10 Adorable Dog Mascots
10 Adorable Dog Mascots
These seriously cute dog mascots will have you ready to apply and cheer on these colleges.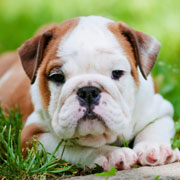 If you dig dogs, sports, or both, consider attending a school represented by one of these precious pups. Are you ready to melt from total cuteness? Okay, here we go…
1. Uga IX
Widely considered the biggest celebrity in the college mascot world, the University of Georgia's Uga IX, a pure white English bulldog, is totally the Natalie Portman of Doggie Hollywood – petite and full of moxie!
Nothing says adorable like a cute college mascot -- especially one that's man's best friend.
2. Scotty
Carnegie Mellon University was without a mascot until 2007, when Bill Cosby (you read that right, Bill Cosby) gifted them Scotty, a black Scottish terrier. Do you think he has a sense of humor like his dad?
3. Blue III
Blue III, Butler University's new mascot, has some pretty big shoes to fill: the retired Blue II was so beloved by the university that he actually walked at Commencement.
4. Handsome Dan XVII
Handsome Dan XVII (yes, the "handsome" is part of his name) is the 17th white English bulldog to serve as Yale University's mascot. Oh, and without Yale, this list might not even exist – they were the first school in the country to adopt a live mascot. We are forever indebted to you, Yale. Seriously.
5. Blitz II
After the first Blitz tragically died two days before Wofford College's 2008 homecoming, Blitz II, this beautiful Boston Terrier, valiantly took on the job. We commend you for your bravery, Blitz II.
6. Bully
In case you think Mississippi State University doesn't care much for their mascot, consider this: when the first Bully was fatally hit by a campus bus in 1935, he was placed in a glass coffin and given a full military funeral parade. Need we say more?
7. Jonathan
The University of Connecticut's mascot Jonathan not only represents the school's athletics; he's also the face of their animal therapy program that assists both children and seniors. Did Jesus just get reincarnated as a beautiful white husky? Serious question…
8. Zeke III
Zeke III, or Zeke the Wonder Dog, does more than just laze around looking good – his Frisbee catching skills are showcased at Michigan State University's half time shows, and he's even been rewarded a varsity letter.
9. Smokey
The University of Tennessee's Bluetick Coonhound Smokey is apparently important enough to have an entire book written about him. We're guessing his good looks might have helped him snag that lit agent.
10. Dubs
The University of Washington's Dubs is one popular husky – after four rounds of fan voting, he triumphantly won the 2010 NCAA Mascot Tournament hosted by petside.com. He even has his very own blog and facebook page in order to keep all his loyal fans in the loop. Way to build that social media presence, Dubs!
If you haven't melted yet, what more do you need from us – kittens sleeping on top of smiling babies? We'll see what we can do…
Advertisement
Visit Our Student Center

Get on track!
And find out everything you need to know about planning for college.
Advertisement