See All
Colleges >
GRE Prep Courses: Overview
GRE Prep Courses: Overview
Learn the basics of taking a GRE test prep course.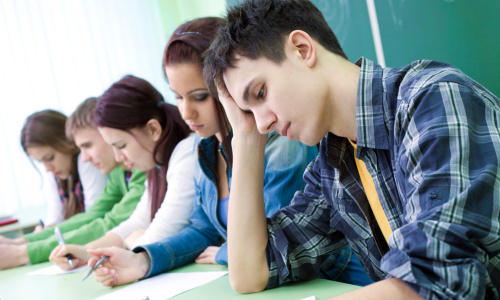 Photo: Thinkstock
Most graduate schools require students to take the GRE before applying to a masters degree program. The GRE is a standardized test that requires a broad knowledge of verbal, quantitative and analytical skills. Most graduate school admissions committees use the GRE test scores to evaluate the students general knowledge and help with measuring their scholastic aptitude.
Test prep courses claim to help students receive higher GRE test scores. Sure, you can purchase a GRE prep book or find software to help you study, but taking a prep course means that the teacher weeds through the volumes of GRE prep materials for you, so you get the best information.
If you decide to go the route of private tutoring, you will receive the most individualized experience.
Who Should Take a GRE Test Prep Course?
ETS encourages students to take the GRE while they are still in college so that their test taking skills are still fresh. However, non-traditional applicants who have been out of college for a few years or more are perfect candidates for a GRE test prep course.
Paying for GRE Test Prep Courses
The price of each GRE prep class varies by the institution offering the course. Prices can range from several hundred to over $1,000. If you have trouble paying for your prep course, research your other options including payment plans and discounts.
Types of GRE Test Prep Courses
You may choose to take your GRE prep course in a classroom, online, or through private tutoring sessions. Each type of course has its own advantages and disadvantages. With courses that are offered in the classroom, students receive one-on-one interaction with teachers, which provides a more personalized experience. In addition, your course may include group studies which allow you to learn from your peers as well.
Flexibility of time and pace are the key advantages to taking a prep course online. Online GRE prep classes are best for applicants who do not have the time to attend a classroom based course, including undergraduate students and working professionals. Online courses are typically less expensive. Another perk to taking GRE prep courses is that you can browse through the subjects that you are already familiar with, allowing you to take extra time on other problem subjects.
If you decide to go the route of private tutoring, you will receive the most individualized experience. Not only will you have a teacher to coach you through each subject, but you can also advance through subjects at your own pace.
Kaplan and Princeton Review have the most popular test prep services, however there are a number of independent prep courses available throughout the US. Generally, these courses are offered at a low cost so students who are on a budget can still afford to take a GRE test prep class. A lower price does not necessarily mean that you will receive a poorer education. Be sure to research the company you are considering receiving test prep services from prior to registering.


People Who Read This Article Also Read:
Graduate Management Admission Test (GMAT): The Basics
Law School Admission Test (LSAT): The Basics
Medical College Admission Test (MCAT): The Basics
Ten Things You Need to Know About the GRE
GRE Subject Test: The Basics
Graduate Record Examination (GRE) Tests: The Basics
10 Study Tips for the GRE Test
GMAT vs. GRE

Advertisement
Visit Our Student Center

Get on track!
And find out everything you need to know about planning for college.
Advertisement