See All
Colleges >
College Housing Alcohol and Smoking Policies
College Housing Alcohol and Smoking Policies
Rules and regulations about drinking and smoking in college dorms, apartments and houses.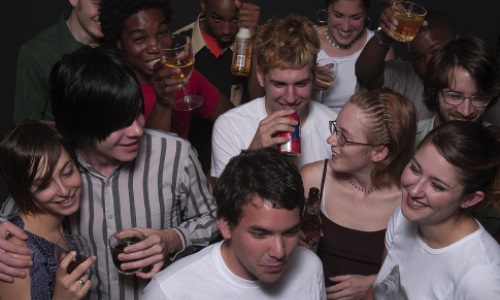 Photo: Thinkstock
Especially in college, smoking and drinking tend to go hand-in-hand. Just ask University of Arizona anthropologists Mimi and Mark Nichter, who did a study on both behaviors among college students. The study showed that party environments and stress-related issues led to a marked increase in smoking and drinking among college students in the past 15 years.
However, just because more students are doing it doesn't mean it's any more accepted by universities. Before you light up a cigarette or crack open a beer on campus, make sure that you're familiar with your college's drinking and smoking policies.
In general, you should avoid alcohol on campus, but there are plenty of places when you can enjoy a drink or two with your friends if you're of legal age.
Some Statistics on College Smoking and Drinking
While smoking and drinking have always been common among college students, they've recently become substantial health issues.
Nearly 30 percent of college students smoke, compared with about 20 percent of US adults. Moreover, 28 percent of college smokers started smoking in college. Because most adult smokers started the habit by the age of 21, many universities have begun to treat smoking on campus as a serious issue. Just this summer, the University of Michigan issued a campus-wide ban on smoking.
While smoking on campus has begun to raise concerns, drinking on campus is highly regulated at most schools, and with good reason. According to a 2009 study by Hingson et al, 1,825 students died from injuries related to alcohol consumption and nearly 600,000 students experienced alcohol-related injuries. Many students also report alcohol as a cause of poor academic performance.
Some Drinking Policies
At most schools, drinking policies are extensive, detailed and strict. Oklahoma University specifies that all residence halls, including fraternities and sororities, will be dry. OU issues a "three strikes" policy for drinking: the first and second strikes are warnings, while the third results in a semester-long suspension.
Rice University's policy emphasizes the prohibition of underage drinking and alcohol consumption on campus. Drinking in Rice's college housing is strictly prohibited, and while it recognizes the reality of drinking at house parties off campus, party hosts are supposed to ensure that guests are of legal age.
At the University of Georgia, alcohol policy violations are divided into two levels. Level I violations include alcohol possession or use, while Level II violations include drunk driving, disorderly conduct, vandalism and other acts caused by intoxication.
Some Smoking Policies
At Carnegie Mellon University, all university buildings and residence halls are smoke-free, as are shuttle buses and campus police vehicles. Smoking is allowed outside, but only in designated smoking areas. There's a $25 fine for policy violations.
Ball State University has a similar policy, banning smoking in all campus buildings, with outdoor smoking permitted only in designated areas. This is a fairly common policy at most universities. Ball State does, however, provide some housing for smokers in the form of on-campus apartments.
Barnard College enacts a more strict policy with regard to smoking. At Barnard, smoking is not allowed anywhere on campus.
While smoking cigarettes at most schools results in a small fine (such as the $25 penalty at Carnegie Mellon), marijuana use is often punished more heavily. At Pomona College, for example, the first offense results in a $100 fine and a letter of reprimand in your student record. The second offense doubles the fine and results in a residential probation, and the third results in suspension from residence life.
Where Can You Smoke and Drink in College?
As previously mentioned, many colleges have designated smoking areas outdoors, while others require smokers to go off-campus to smoke. Marijuana smoking, however, is a different matter and subject to state and federal laws, along with campus regulations.
In general, you should avoid alcohol on campus, but there are plenty of places when you can enjoy a drink or two with your friends if you're of legal age. Bars, clubs and off-campus houses are places where alcohol can be consumed. As long as you're safe and legal, you shouldn't encounter any problems either with your college or the local police.


People Who Read This Article Also Read:
Dorm Life 101
How to Choose a College Roommate
The Worst College Dorms
College Housing Myths
The Best College Dorms
Living in a Sorority
On-Campus Housing and Dorm Rules
Living at Home During College: Is It A Good Idea?
How to Get Along With Your College Roommate

Advertisement
Visit Our Student Center

Get on track!
And find out everything you need to know about planning for college.
Advertisement